This vigorous salad is another one of my favourites: juicy, creamy, bright, and refreshing! I suppose you've already guessed the reason for its name, haven't you? Right, these red and yellow peppers and orange carrot make it look like autumn leaves under our feet! And when combined with tender turkey and cheese, it becomes so invigorating, nourishing, and energizing that it can doubtlessly replace your dinner! So, what are you waiting for?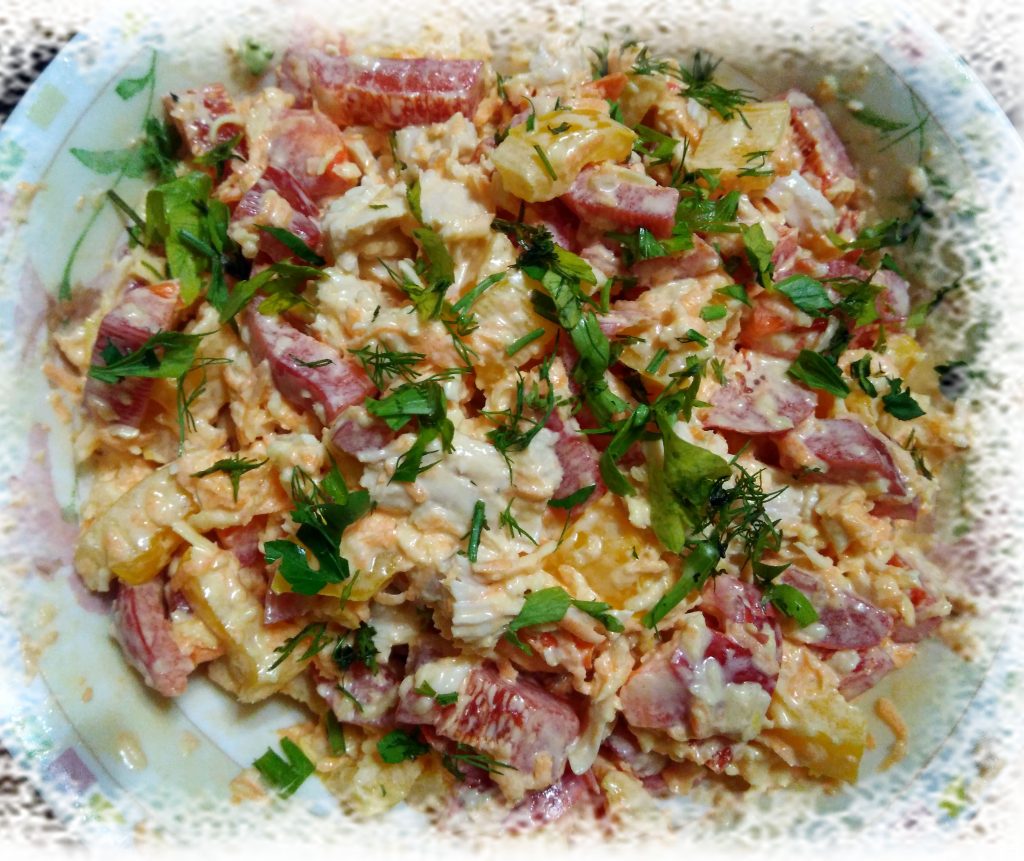 You'll need:
500 g turkey fillet
1 big carrot, peeled, finely grated
100 g any hard or semi-hard cheese, finely grated
2 big bell peppers (a yellow and a red one)
3 garlic cloves, peeled, mashed
3 tbsp mayonnaise
2 black pepper berries
1 laurel leaf
½ bunch of parsley, finely chopped
Salt to taste
Preparation:
1. Put the turkey fillet in a pot, and pour cold water so that it covers the fillet. Add black pepper, laurel leaf, and salt, and boil the meat for approx. 40 min. Let the turkey cool down.
2. Chop the turkey into 2*2 cm pieces and put it in a serving bowl.
3. Remove the seeds from the bell peppers, and roughly chop them. Add the peppers to the turkey.
4. Add grated cheese and carrot.
5. Mix mayonnaise with mashed garlic and add the dressing to the salad. Mix everything thoroughly and add salt if needed.
6. Sprinkle the salad with parsley and serve immediately!
Bon appetite!