St. Valentine's Day is coming, and I'm sure that most of you are looking for something special to surprise your second halves with. Believe me, this tart is exactly what you're looking for! Breathtakingly aromatic and irresistibly mouthwatering, light and energizing, with crunchy almond basis, sweet-sour spicy cranberry filling, and delicious soft as cloud white chocolate cream topping, it will get right to the heart of that very one! Besides, it's nothing difficult to prepare and the risk of failure is really non-existent. In case of limited leisure time, it's perfectly normal to cook this tart step-by-step in different days: to bake the tart base and prepare the cream base the day before, and do all the rest on that very day. And I'm sure that you'll be amazed no less than your love! Go on, and love for everybody!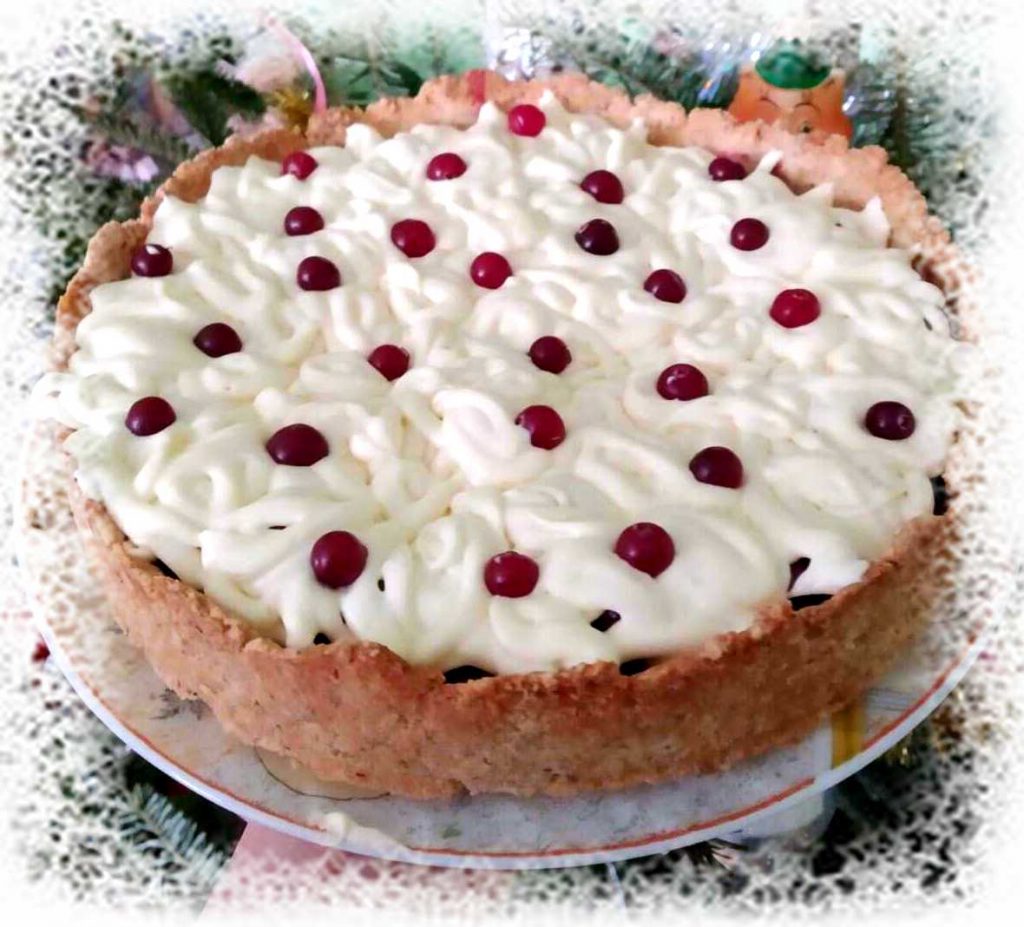 You'll need:
100 g butter, chilled and diced
50 g sugar
1 egg
170 g flour
30 g starch
75 g almonds, slightly browned and cooled down
For cranberry filling:
600 g cranberry
50-80 g sugar
1 orange zest and juice
1 tsp Christmas spices
For cream:
150 g heavy whipping cream (no less than 30%)
150 g white chocolate
Preparation:
Put the cream in a sauce pan with thick bottom, and warm it, constantly stirring, until it simmers. When the first bubbles begin to appear, add chocolate and remove the cream from heat.
Stir the cream actively until all the chocolate dissolves. Let it cool down and put it in the fridge for 6-8 hours min.
Put almonds, flour, and starch in a food processor and blend everything together until almost homogeneity.
Add sugar and butter and mix everything until lumps begin to appear.
Take the dough out of the food processor and use your hands to press it evenly into the bottom and sides of a springform cake tin. Put it in the fridge for 30 min.
Pre-heat oven to 190oC.
Take the dough in the tin from the fridge, cover it with parchment paper, and fill it with ceramic baking beans or just common dry beans or peas. Bake it all together for 10 min, then remove the parchment paper with ceramic beans, and bake for 10 min more. Let the tart base cool down.
Meanwhile, prepare cranberry filling. Put cranberry, sugar, and orange juice in a sauce pan and bring it to a boil over low heat. Cook it until half of the berries pop, for approx. 15-20 min. Remove the cranberries from the heat, and add orange zest and spices. Mix thoroughly and let it cool down.
Pour the berry filling in the tart base and level it out.
Take the white chocolate cream out of the fridge and whip it at the highest speed of your mixer until it adds in volume and becomes airy and fluffy.
Use a pastry bag and your favourite nozzle shape to decorate the tart with white chocolate cream. Use some spare cranberries and rosemary or mint to further decorate the tart and express your love.
Bon appetite!
P.S. Almond can be replaced with any other nuts; best browned in the oven. Regulate the amount of sugar in the filling depending on how sour your cranberry is. If you don't have a special Christmas spices mixture, fell free to replace it with cinnamon, or mix cinnamon, cloves, and cardamom in equal proportions. And in case you don't have a pastry bag, take any small but firm packet, cut off a tiny bit of one corner, and use it as a one-use pastry bag.