As you may have noticed, I generally dislike soups, which are usually too bland for me; that's why I prefer cream soups with distinct, bold, and appealing tastes. This soup, – although it's not a cream soup, – is definitely delectable; with garlic, cream, and parsley adding slight but undeniably appetizing accents to otherwise mild (too mild) cauliflower and carrot. Moreover, it's a true weekday soup, when there is not much free time and still less desire to cook something exquisite. Fragrant, homey, and easy-to-cook – that's all you need to know about this soup. So, if you're in search of cooking inspiration and, meanwhile, want something simple and hearty – try this one!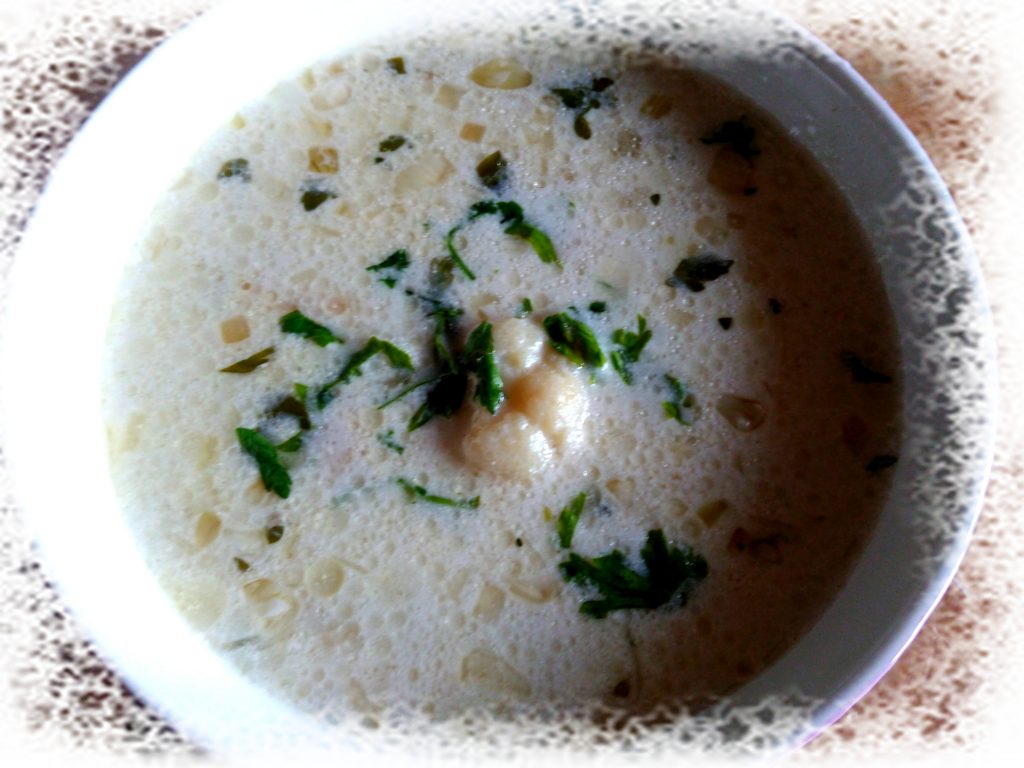 You'll need:
250 g cauliflower, divided into florets
1 onion, peeled, finely diced
1 carrot, peeled, diced
3 potatoes, peeled, diced
3 garlic cloves, peeled, mashed
3 tbsp oil
1.2 l broth (chicken or vegetable) or water
150 ml light cream (15-20% fat)
1 bunch of parsley, finely chopped
Salt to taste
Preparation:
1. Bring broth or water to a boil in a 3-liter cooking pot.
2. Meanwhile, heat oil in a frying pan, add chopped onion, and stir-fry it until softens. Add garlic and stir-fry everything for 1 more min.
3. Put carrot, onion, and potatoes in a boiling broth and cook for 10 min.
4. Add cauliflower, salt to taste, and cook for 7-8 min more until cauliflower softens.
5. Add cream and bring the soup to a boil once more. Add parsley and turn off the fire.
6. Let the soup sit for 5 min under a closed lid. Serve hot, sprinkled with fresh parsley or your favourite cheese.
Bon appetite!