Each of us has probably tried some diet, but can you imagine something 'fitness' and dietetic being truly delicious, juicy, and aromatic? When you hear the word 'dietetic', do you also imagine something bland and quite tasteless? Don't worry, this dish will definitely turn your opinion of fitness dishes upside down! Just imagine: juicy marrow noodles with minced meat, covered with
tomato-garlic sauce, and seasoned with basil and cheese, mmm… That's unbelievably tasty! Don't miss this dish while marrows are still in the markets!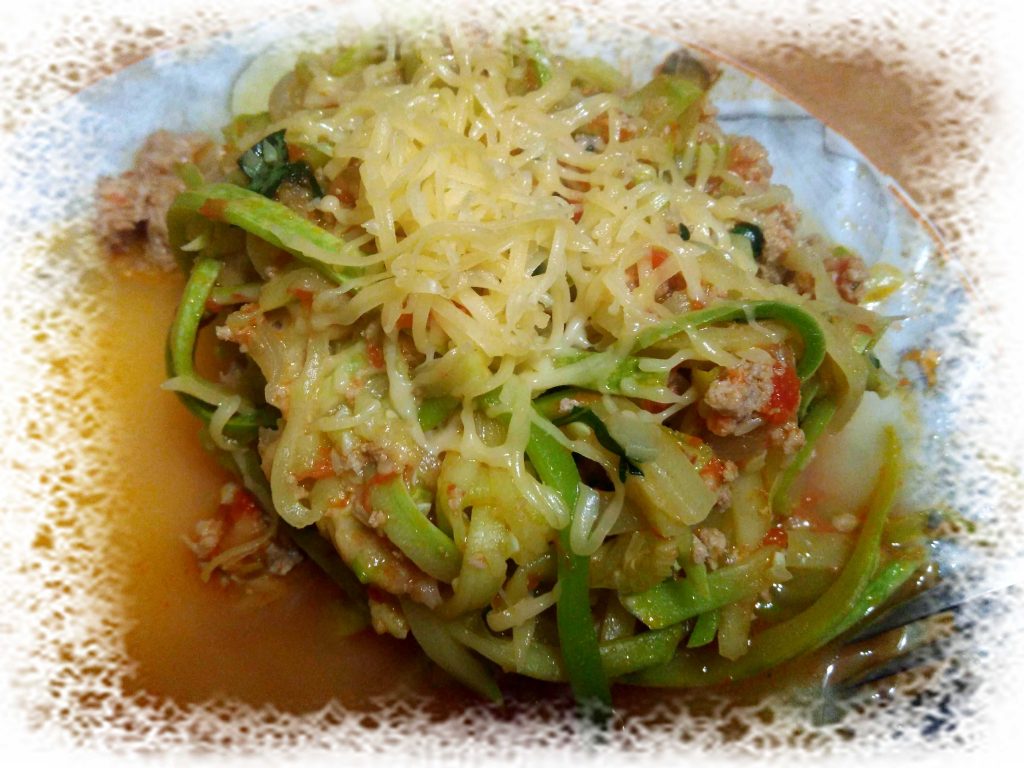 You'll need:
1 onion, roughly chopped
3 tbsp oil
3 garlic cloves, mashed
300 g chicken mince
3 average-sized tomatoes
2 middle-sized long marrows, sliced with spiralizer or simply cut into thin stripes
3 branches of basil, only leaves, finely chopped
50 g cheese, finely grated
Salt to taste
2 portions
Preparation:
1. Heat up oil in a big frying pan, add chopped onion and a bit of salt, and stir-fry until onion softens.
2. Add mince and stir-fry everything together until meat changes its color and begins to brown.
3. Roughly grate the tomatoes and remove excessive liquid (but don't squeeze them).
4. Add tomatoes and garlic to the meat, salt it, and bring the sauce to a boil.
5. Add marrow noodles and mix everything thoroughly. Stew them until slightly softened, 2-3 min after the sauce begins to boil.
6. Remove your Bolognese from fire, add basil, and half of the cheese. Mix thoroughly.
7. Serve immediately, sprinkling each portion with the rest of the cheese.
Bon appetite!
NB: If you're not terribly concerned about 'fitness', you may replace chicken mince with beef or pork one. You may as well replace part of the marrow noodles with real ones to make the dish more filling.