Autumn is gradually but inexorably claiming its rights, and more often than not we are dreaming about something hot, homey, and heart-warming. In one of these moods, this spicy autumn cake will meet your every heart's desire! Juicy pears, fragrant fried almonds, spicy cinnamon, and heartwarming rum with make your heart melt with the feeling of tender sun rays on your face. Soft and moist, this cake is so rich in texture that it tastes really exquisite, and its deep mouthwatering aroma will make you forget all the troubles! Cook, enjoy, and may the inspiration never leave you!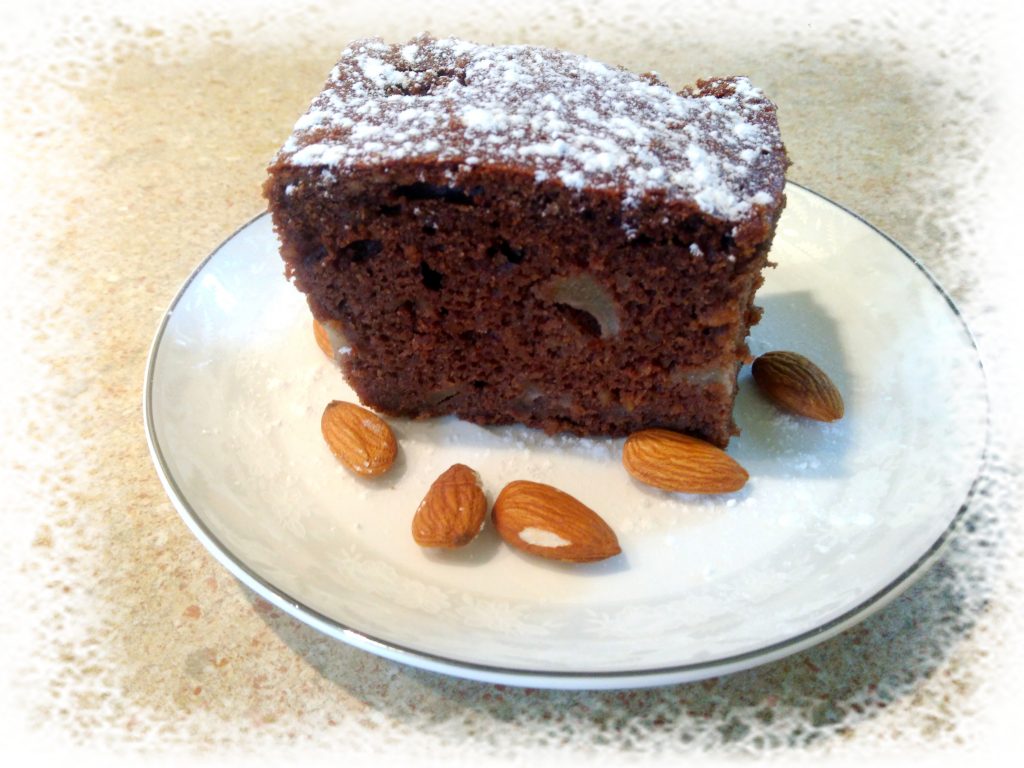 You'll need:
200 g butter, room temperature
175 g sugar
4 eggs
50 ml rum (can be replaced with cognac)
200 g flour
10 g baking powder
125 g almonds
2 tbsp ground cinnamon
15 g cocoa powder
6 middle-sized pears, peeled, diced
Preparation:
1. Pre-heat oven to 180 C.
2. Put almonds in any baking dish and bake until slightly browned, approx. 8-10 min. Take the almonds out of the oven and let them cool down, but don't turn off the oven.
3. Cover the bottom of the baking tin with baking paper and smear the sides with butter.
4. In a big bowl, whip butter with sugar using a hand mixer.
5. Add eggs, one by one, and rum, continuing mixing.
6. Put flour, cinnamon, cocoa powder, baking powder, and almonds in a food processor and blend thoroughly until almonds turn into fine crumbles.
7. Add dry ingredients to the egg-butter mixture and mix once more until homogeneity.
8. Add pears and mix everything once more with a spoon.
9. Put the dough in the baking tin and bake for approx. 1 hour.
10. Take the cake out of the oven and let it cool down in the baking tin.
11. Carefully take the dough out of the baking tin, sprinkle with icing sugar, and enjoy!
Bon appetite!