Desserts are coming back! These are the last days of plum season, so today I offer you to catch this last train and prepare an exquisite, healthy, easy-to-cook, and astonishingly looking dessert: baked plums with yogurt and nuts. It was designed to surprise: hot spicy plums, cold Greek yogurt, and crunchy nutty topping create a mesmerizing symphony of tastes and textures, with cinnamon warming your autumn heart and low calories count making you happier and happier when you realize that you can enjoy it as much as you'd like! Moreover, you can cook all the parts of the dessert beforehand and only warm the plums before serving. So, treat yourself, amaze your guests, and cook, cook, cook!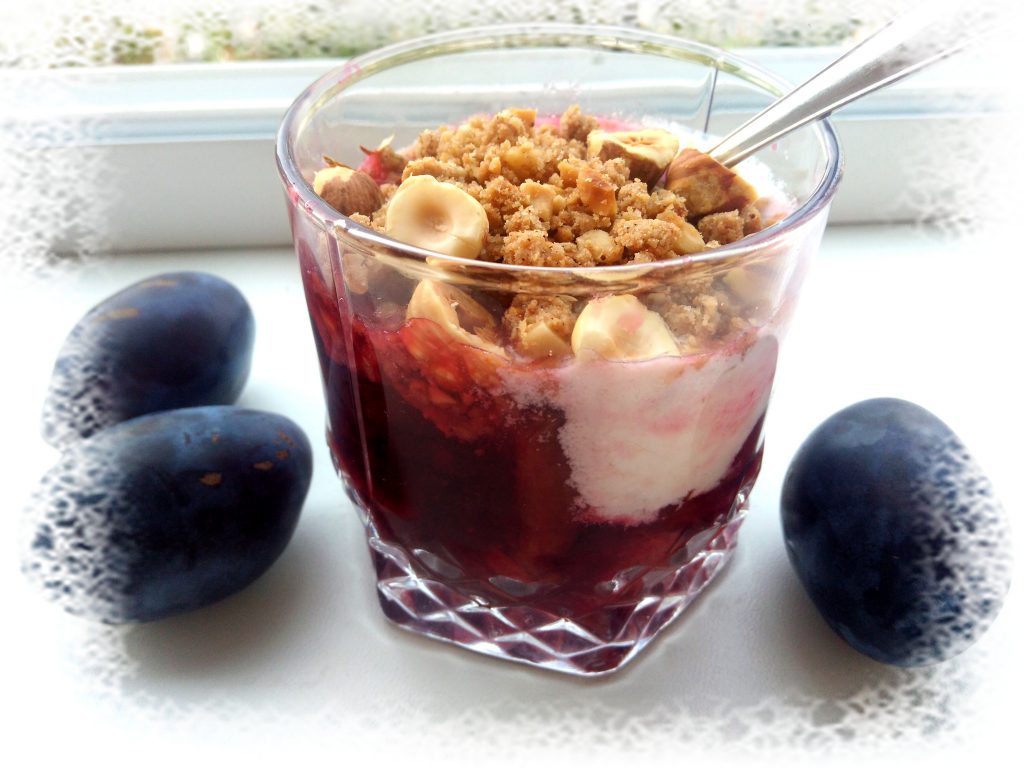 You'll need:
1.2 kg plums, each cut into two, stones removed
1 cinnamon stick, broken into 2
1 star anise, broken into 2
2 tbsp sugar
12 tbsp Greek yogurt
60 g hazelnuts
For topping:
30 g wheat flour
50 g buckwheat flour
70 g hazelnuts
50 g butter
1 tsp ground cinnamon
40 g sugar
6 portions
Preparation:
1. Pre-heat oven to 180  C.
2. Put all the nuts on a baking tin and bake them until they are easily peeled, approx. 10 min. Take them out of the oven and let them cool down before peeling them.
3. Mix all the ingredients for the topping in a food processor until lumps appear.
4. Cover the baking tin with parchment paper.
5. Put the topping on a baking tin, slightly leveling it, and bake until begins to brown, approx. 15 min.
6. In a deep baking dish, mix plums with sugar and spices. Bake for 20-25 min until the plums soften.
7. Put the warm plums in serving bowls or glasses, add 2 tbsp of yogurt to each portion, and sprinkle them with nutty topping. Add extra hazelnuts, and serve immediately!
Bon appetite!
NB: You can replace buckwheat flour with corn, rice, or oat flour, or even wheat flour if no other option is available. And you can make the same dessert with apricots, peaches, and pears as well! A way for experiments!