Salmon is considered to be an exquisite and upper-class delicious fish, and it's important to cook it well. This baked dish is just ideal: creamy potatoes, soft baked onions and nourishing fresh fish accented with dill and lemon – an ideal rustic dinner when all you want is hearty mouth-watering home food, but not meat. Properly served it can as well make for a celebratory dinner. You must try it!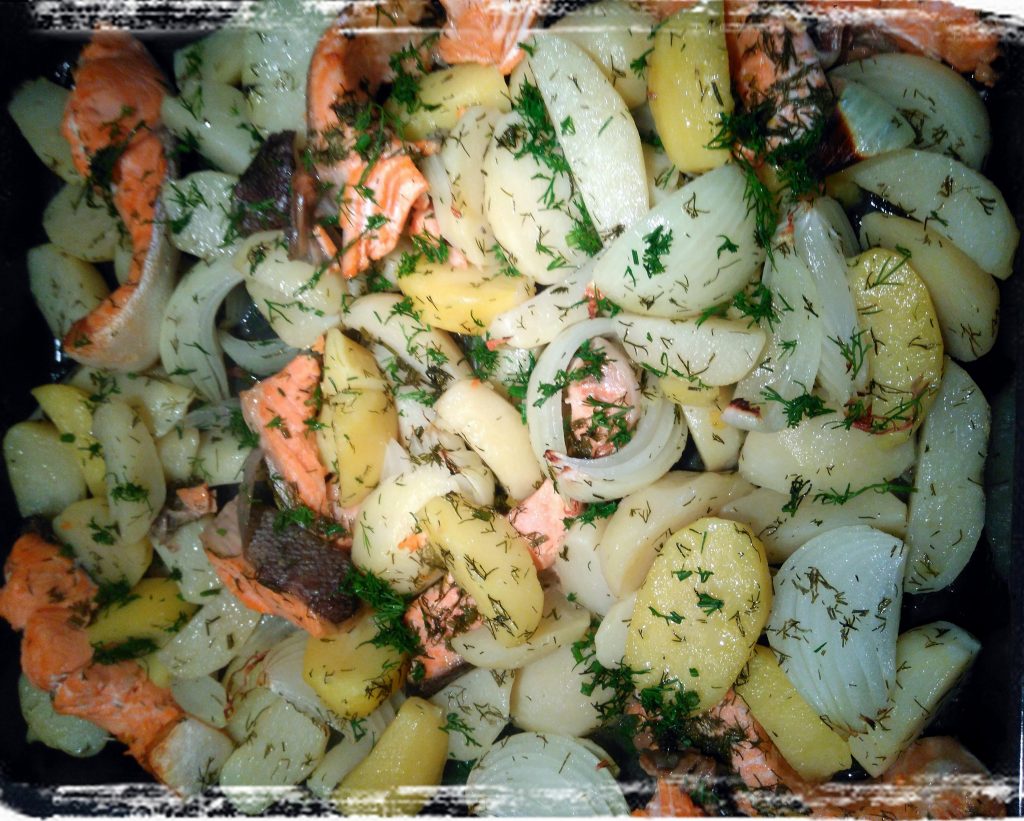 You'll need:
700-800 g fresh salmon fillet
1 kg potatoes, peeled, cut into 4
2 white onions, peeled, cut into 4
1 bunch of dill, finely chopped
3 tbsp olive oil
1 lemon's juice
½ lemon's peel, finely grated
Salt to taste
4 portions
Preparation:
1. Pre-heat oven to 200 o C.
2. Rinse the fish fillets and dry them with paper towels. Sprinkle them with lemon juice and salt, and cover with 1/3 of chopped dill and lemon zest. Let them marinate for 15 min.
3. Bring water with a bit of salt to a boil and boil the potatoes until half-cooked, approx. 10 min. afterwards, drain them.
4. Put the potatoes in a deep bowl, add onions, 1/3 of chopped dill, salt and olive oil. Mix everything thoroughly.
5. Put the potatoes in a baking tin and put the pieces of salmon between them.
6. Bake for 10 min, then mix and bake for 15-20 min more.
7. Take the dish out of the oven, sprinkle with the remaining 1/3 of dill and serve immediately!
Bon appetite!