Have you ever tried cooking restaurant-like dishes at home? Usually it's really difficult to get the necessary ingredients or to reach the proper consistency; and even then, something is clearly missing. This pie, however, is made of simple enough ingredients, but the taste is so exquisite that you wouldn't be able to stop yourself from taking your best cups and plates out and arranging a 'restaurant table' at home! Its slightly wet and intensely chocolate base is perfectly complemented with the sourness of aromatic cherries and bits of melted chocolate… mmm! Can you already sense its smell?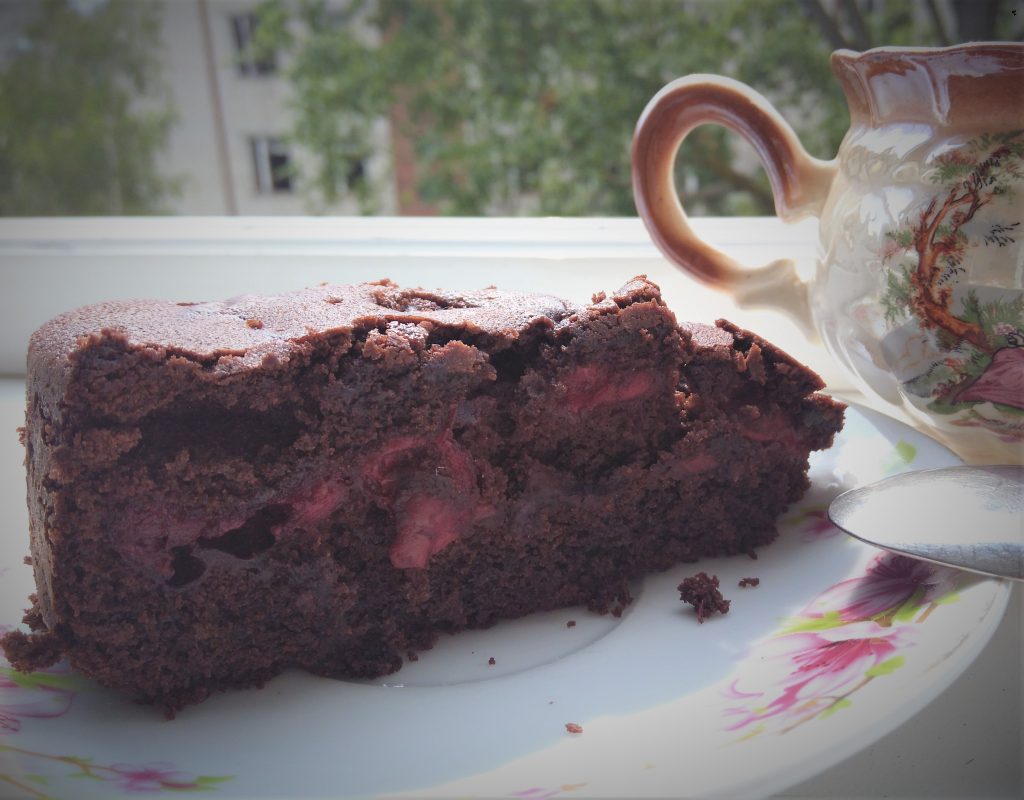 You'll need:
120 g butter, room temperature
200 g sugar
180 g flour
50 g cocoa powder
50 g dark chocolate
2 tsp baking powder
2 eggs
120 ml milk
600 g cherries, stoned
A pinch of salt
Springform tin 18*30 or 24-26 cm
Preparation:
1. Pre-heat the oven to 170 o C.
2. Use hand mixer to slightly mix butter with sugar. Add milk and eggs and mix everything together.
3. Combine flour, cocoa powder and baking powder in a separate bowl, and add it to butter-milk mixture. Mix until homogeneity, but be careful not to mix for too long.
4. Crumble the chocolate and add it to the dough, thoroughly stirring it.
5. Cover the baking tin with baking paper and pour the dough in. Smoothen the surface.
6. Put the cherries in the dough, row by row, immersing them by 2/3.
7. Put the pie in the oven and bake for 40-50 min, doing a toothpick test to check the readiness.
8. Let it cool down for 15-20 min. Serve hot or cold, with a ball of ice cream and a cup of strong coffee.
Bon appetite!
NB: Cherries can be replaced with raspberry or peaches.