Have you ever tried baked peaches? What about peaches with vanilla? This weekend is a perfect occasion just for that! Such an incredibly juicy and aromatic pie is an ideal choice for these hot midsummer days that is both delectable, moist and dietetic (as far as the pies go, of course :), and may be eaten with tea/coffee, lemonade or even alone. And even if you're not really a peach lover (as am I), I'm sure you'll like this refreshing pie! Just give it a try!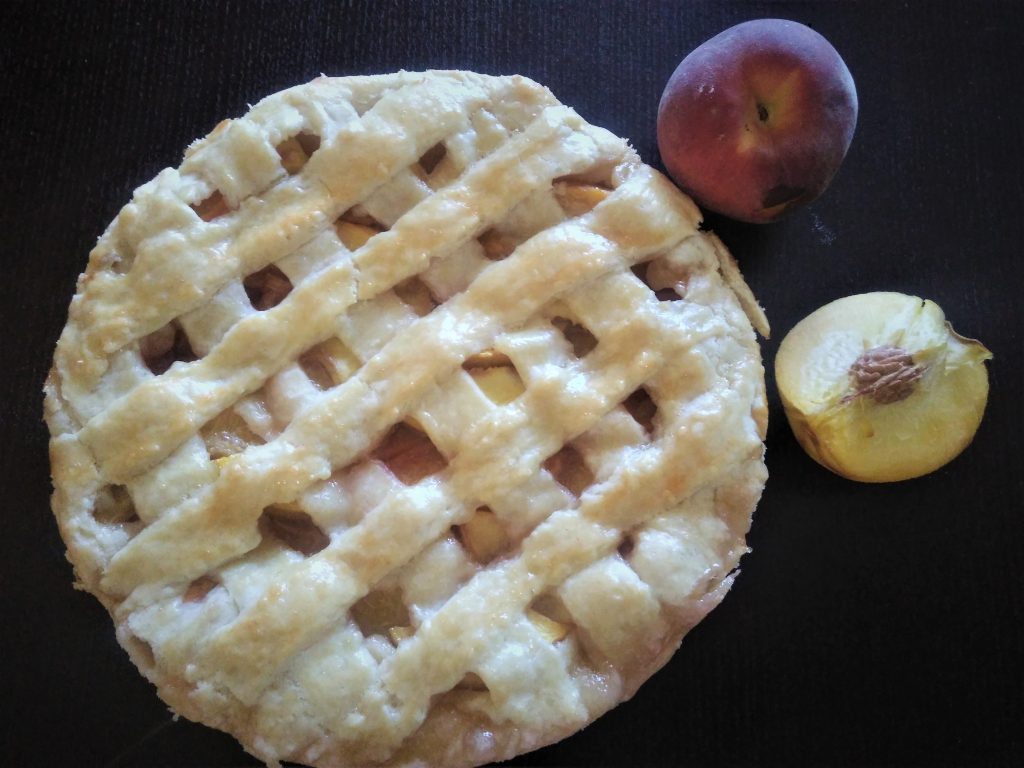 You'll need:
For dough:
215 g flour
3 tbsp sugar
2/3 tsp salt
150 g butter, well chilled and diced
40-60 ml water, chilled
For filling:
1 kg peaches
8 g vanilla sugar
100 g sugar
1.5 tbsp starch
1 egg
Springform baking tin 24 cm
Preparation:
1. Mix flour, sugar and salt in a bowl. Add chilled butter and thoroughly blend everything together until small crumbles (preferably using food processor).
2. Add water, just enough amount to 'bind' the dough, to make it a ball. The exact amount depends on the quality of your flour and general humidity, so you need to decide for yourself, but be careful not to add too much water.
3. Wrap the dough in cling film and put it in the fridge for 1-2 hours.
4. Meanwhile, prepare the peaches. Bring a big amount of water to a boil. Cut a small cross on each peach and put them in the boiling water for 1 min. Take them out and immediately put them in a bowl with icy cold water. Now, it would be easy to peel them.
5. Peel the peaches and roughly slice them, removing the stones. Add sugar, vanilla sugar and starch, and mix thoroughly.
6. Pre-heat oven to 160 o C.
7. Divide the dough in two. Take one part and roll it out thinly. You can dust it with flour to make it less sticky. Use a rolling pin to move the dough to a springform tin and adjust the form.
8. Roll out the other part of dough too and cut it into stripes approx. 1.5 cm wide.
9. Drain the excessive peach juice from the filling and put the rest of the filling in the tin.
10. Cover the pie with the stripes of dough arranging them so as to form a kind of grating or net. Press the ends of the stripes to the dough in the form to connect them.
11. Beat the egg to homogeneity and smear the top of the pie with it.
12. Bake the pie for 50-60 min. Let it cool down for 10-15 min before eating.
Bon appetite!