With the season of strawberry gradually coming to the end, I offer you one more summer-ly light, tender, and amazingly delicious strawberry cake. Although 'cheesecake' may sound a bit rustic, believe me, it's nothing close to it, and you'll never ever forget this dietetic cheese-yogurt mixture with fresh strawberries resting on a crunchy aromatic biscuit-almond base! What's more, in these hot summer days, it doesn't require any long baking; and when eaten directly from the fridge it's so refreshing that it tastes almost like a strawberry ice-cream! So, what are you waiting for?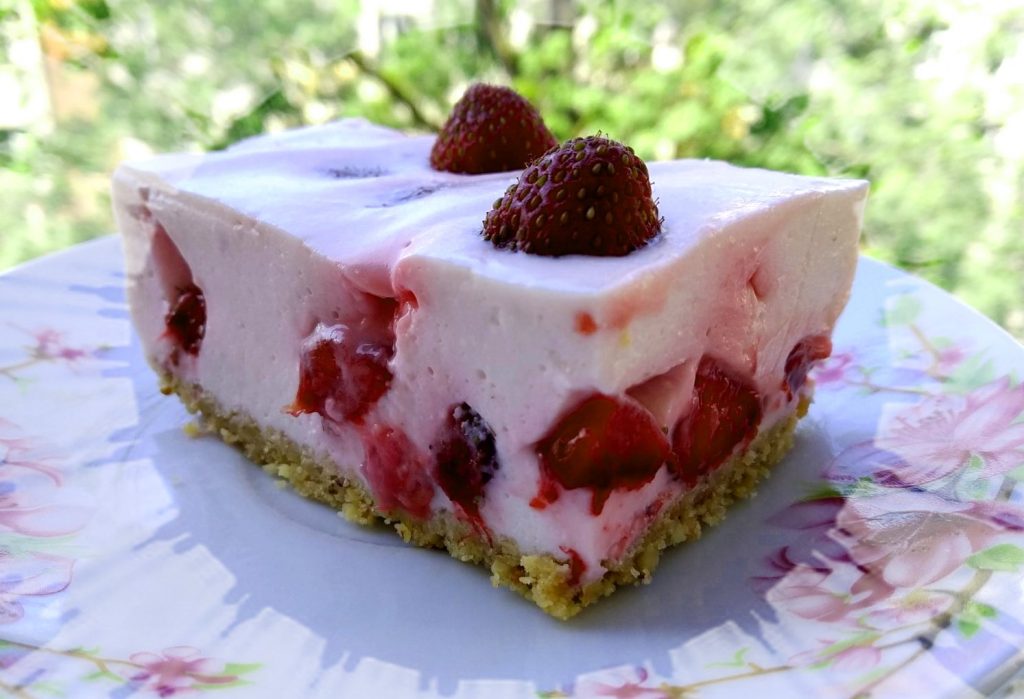 You'll need:
400 g cottage cheese (preferably with high-fat content)
200 g natural yogurt
300 g heavy (whipping) cream, 30%, chilled
10 g gelatin
50 ml water
150 g icing sugar
800 g strawberries, cut into 4 pieces each
For base:
100 g any biscuits
100 g almonds
75 g butter, melted
Springform tin 18*30 or 26 cm diameter
Preparation:
1. Pre-heat oven to 180 o C. Spread the almonds on a baking tin and bake them for 10 min. Let them cool down on the tin.
2. Put biscuits and almonds in a food processor and blend until homogeneity. Add melted butter and mix once more.
3. Cover the springform tin with baking paper, and spread the biscuits-almond mixture evenly, pressing hardly down to the level it and pack it tightly.
4. Bake the base for 12-15 min. Let it fully cool down.
5. Meanwhile, put gelatin in a cup and pour water over it. Let it swell.
6. Use a hand blender to blend cheese to a creamy substance. In case you don't have any, pass the cheese through a meat mincer 2-3 times to make it smooth.
7. Add yogurt and icing sugar to cheese and mix everything until homogeneity. Add strawberries and mix once more.
8. Whip 200 g of the cream until stiff peaks and add it in parts to the yogurt-cheese mixture, mixing very carefully.
9. Warm the rest of the cream (don't bring it to a boil!) and add it to gelatin. Mix until gelatin completely dissolves, and add it to the yogurt-cheese mixture too.
10. Spread the strawberry cheesecake evenly over the cold base, level it, and decorate with small strawberries as you wish. Let it chill for at least 5 hours in the fridge.
Bon appetite!
NB: You can use any berries you like instead of strawberries: bilberries, blueberries, raspberries, and even cherries.