The season of strawberry has finally come! And if you think that you've already sated your strawberry appetite, try this vanilla pie and you'll understand that it's not the end yet? Since I tried it last year, I couldn't wait to finally cook it once more this summer, and I'm sure it'll become your favourite pie too! Especially, when complemented with incredibly tender vanilla cream! So, what are you waiting for?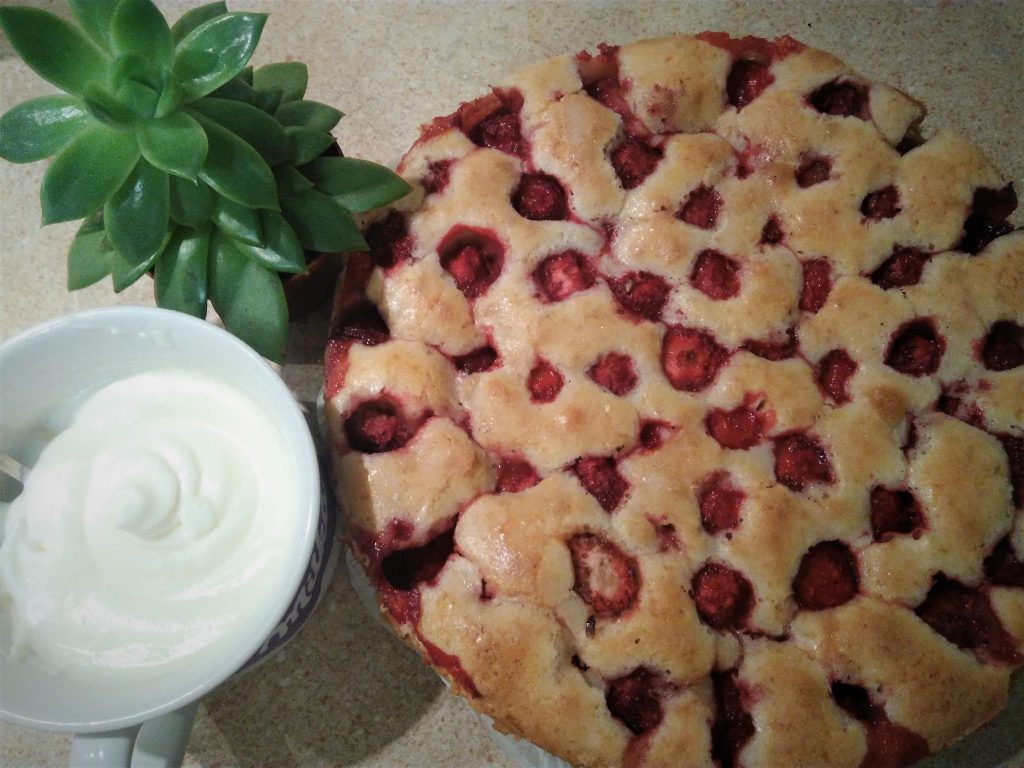 You'll need:
500 g strawberry, stems removed
100 g butter, room temperature
175 g sugar (+ 2 tbsp for sprinkling)
230 g flour
1 ½ tsp baking powder
1 egg
120 ml milk
8 g vanilla sugar
A pinch of salt
For cream:
200 ml heavy (whipping) cream, 30%
70 g sugar
4 g vanilla sugar
Springform baking tin 24-26 cm
Preparation:
1. Pre-heat oven to 170 o C.
2. Cover the baking tin with baking paper and smear its sides with butter.
3. Mix butter with sugar using mixer. Add an egg, milk, and vanilla sugar, continuing mixing.
4. In a separate bowl, mix flour with salt and baking powder. Add it to butter-milk mixture in parts, continuing mixing until the ingredients are evenly combined.
5. Pour the dough in the baking tin, level it, and stick strawberries in in any pattern you like. Sprinkle the pie with sugar.
6. Put the pie in the oven and bake it for 40-50 min. To check readiness, do a toothpick test.
7. Let the pie cool down a bit for 15 min before putting it on a serving plate.
8. Whip the cream to stiff peaks, gradually adding sugar and vanilla sugar.
9. Serve the pie hot or cold with a portion of vanilla cream or vanilla ice cream.
Bon appetite!
NB: You can replace 40 g of flour with the same amount of cocoa powder if you prefer chocolate cakes; vanilla sugar can be replaced with a bit of cinnamon; and you can also replace strawberries with whatever you like: cherries, apricots, blueberries, bilberries etc.