Rhubarb is unjustly considered to be a rural, primitive and sort of outdated fruit, and this cake will definitely give you a fresh look at it. Just imagine: baked rhubarb with orange notes on a pillow of white chocolate-mint cream in a shortcrust pastry wrapping… Believe me, the taste is really exquisite, refreshing and summer-like! So, have a look in your yard – maybe it's a bunch of rhubarb over there?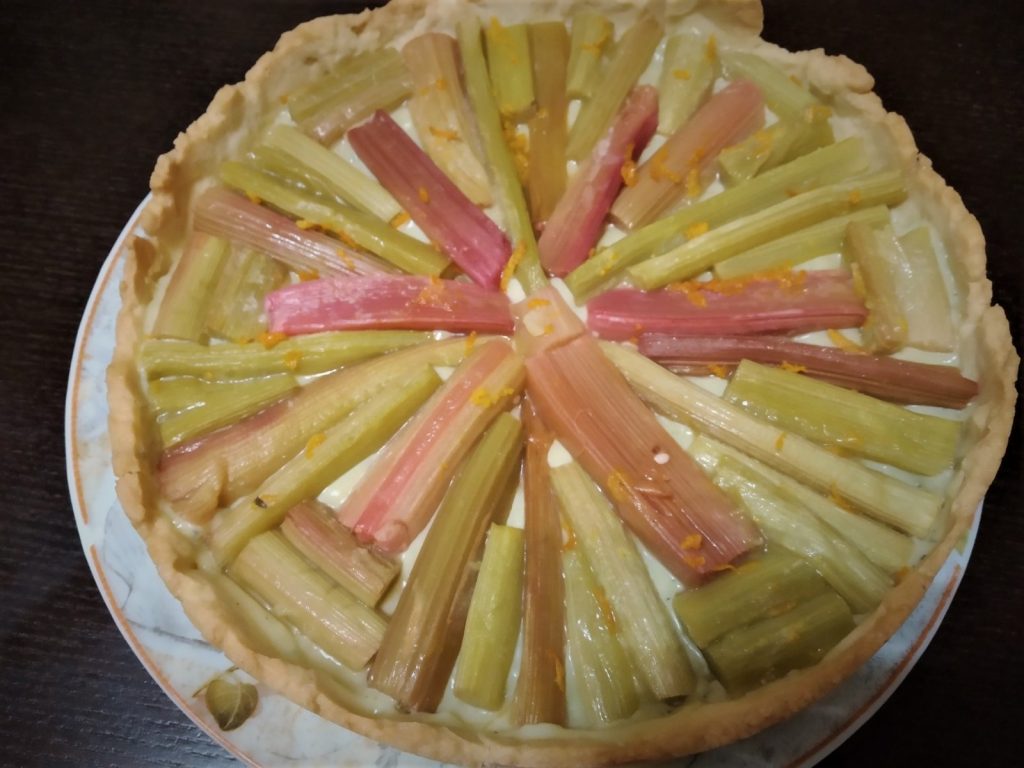 You'll need:
113 g + 20 g butter, room temperature
75 g + 2 tbsp sugar
1 egg
225 g flour
600-700 g rhubarb, roughly chopped
½ orange, juice and zest
For cream:
3 egg yolks
60 g sugar
300 ml milk
25 g starch
1 bunch of mint
100 g white chocolate, chopped
Springform cake tin 24 cm or rectangle cake tin 36×12
Preparation:
1. Put 113 g of butter in a bowl and lightly whip it.
2. Add sugar to butter and whip until whitened.
3. Add egg and mix everything once more.
4. Add flour and quickly knead a dough with your hands. Wrap the dough in cling film and put it in the fridge for an hour.
5. Pre-heat oven to 180 o C. Roll the dough out thinly and put it in a cake tin adjusting as needed. Pierce the dough in multiple places with a fork.
6. Put a sheet of baking paper atop the dough and fill it with beans or ceramic baking balls. Bake for 20 min, then remove the beans and paper and bake for 5 min more. Take the dough out of the oven and let it cool down.
7. Put milk and mint in a small pot and bring to a boil. Then, blend them until homogeneity.
8. Mix egg yolks, sugar and starch until homogeneity.
9. Pour hot mint milk into egg yolks in a thin stream, mixing them all the time.
10. Pour the egg mixture back into the pot and cook at a low heat until it fully thickens, constantly mixing.
11. Remove the cream from the heat and pass it through a sieve.
12. Add white chocolate to the hot cream and mix it until the chocolate dissolves.
13. Cover the cream with cling film so that it touches the surface of the cream and let it cool down.
14. Pre-heat oven to 180 o C once more.
15. Put pieces of rhubarb on a baking sheet and sprinkle it with 2 tbsp sugar and orange juice and zest. Spread 20 g butter evenly over it and bake for 10-15 min until rhubarb softens. Let it cool down.
16. Pour cold cream in the shortcrust base and spread the pieces of baked rhubarb evenly atop the cream. Decorate as you want.
Bon appetite!
NB: To save your time, you can prepare cream, dough and rhubarb in advance, and put all the pieces together on a chosen day.