Real summer has finally come, and it's time for fresh, light, and low-calory desserts! This sweet-sour mousse cake is like first flowers of lilac: perfectly refreshing, tender and thirst-quenching. Delicious, slightly tart blackcurrant mousse on a base of fragrant soft sponge cake and covered with luscious white chocolate cream will definitely make you lose control and your mouth water! But don't worry – as I already said, this cake is completely dietetic, so just let yourself sink into this orgy and eat it all!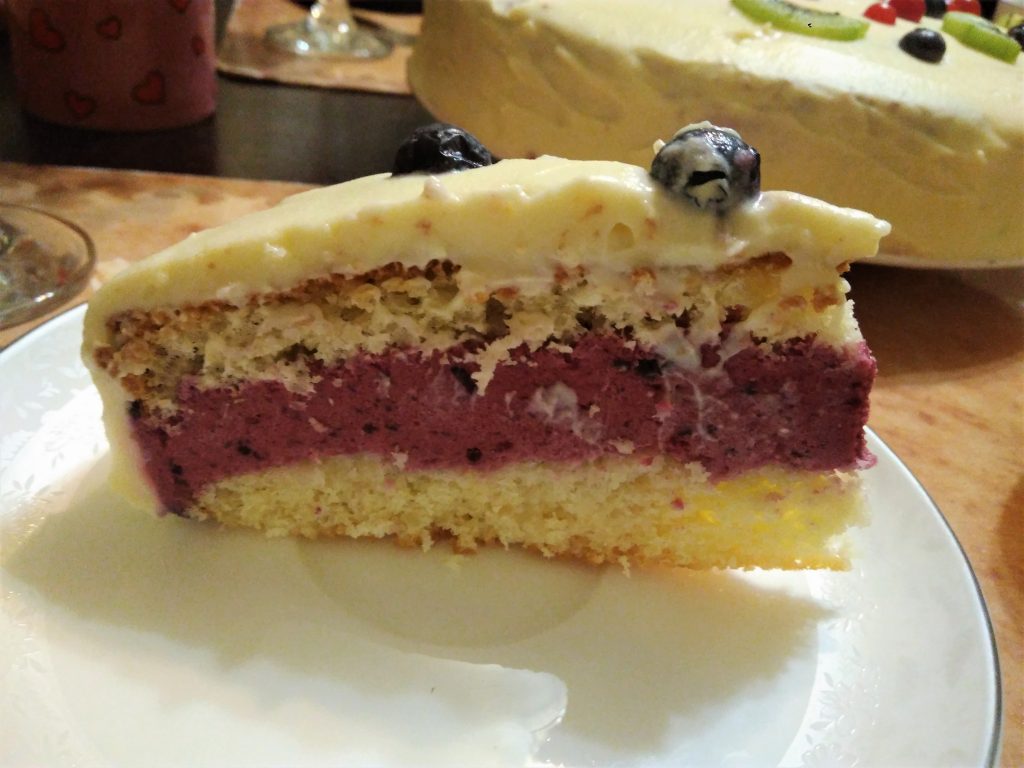 You'll need:
For sponge cake:
3 eggs, yolks separated from whites
140 g sugar
70 g butter, melted
100 g peeled almonds
100 g flour
1 ½ tsp baking powder
50 ml milk
100 g jasmine tea, cooled
For blackcurrant mousse:
200 g fresh or frozen (if frozen – melt it)
100 g sugar
100 ml orange juice
50 ml water
12 g gelatin
400 g whipping cream (30%)
For cream:
250 g whipping cream (30%)
250 g white chocolate
Springform tin 24 cm
Preparation:
1. Pre-heat oven to 180 o C.
2. Put flour, baking powder and almonds in a food processor and blend until fine almond crumbles are made.
3. Beat egg whites until soft peaks.
4. Gradually add sugar, egg yolks, milk and warm butter, continuing to beat.
5. Add flour mixture in parts and mix everything very carefully until homogeneity.
6. Cover the bottom of the springform tin with baking paper and pour the dough. Bake for 30-40 min until a toothpick stuck in its middle comes out dry.
7. Turn the tin with the sponge cake upside down and let it rest for 10 hours.
8. After that time, take the sponge cake out of the tin and slice it in two. Put the lower part back in the tin.
9. Soak both layers with jasmine tea.
10. Mix gelatin with water for mousse and let it swell.
11. Put the blackcurrant, orange juice and sugar in a small pan and bring it to a boil. Cook until the berries begin to pop.
12. Rub the berry sauce through a fine sieve and throw away what's left (or make a tea with it).
13. Add swollen gelatin and stir thoroughly until it dissolves. Let it cool down.
14. Whip chilled cream until stiff peaks.
15. Add a few spoons of whipped cream to blackcurrant sauce and mix thoroughly.
16. Carefully add blackcurrant sauce to the rest of whipped cream and very carefully but thoroughly mix it.
17. Pour the mousse over the sponge cake in the tin and cover it with the upper layer of sponge cake. Put it in the fridge for 3-4 hours.
18. Pour the whipping cream for white chocolate cream in a pan and warm it at a low heat until 60 o C, all the time stirring. Add white chocolate and stir until it dissolves. Put the cream in the fridge for 2-3 hours.
19. Finally, take the cake and the cream out of the fridge. Spread the cream over the top and the sides of the cake and decorate it as you wish. Store in the fridge.
Bon appetite!