Asparagus is quickly gaining popularity these days, so it was a sin not to try these delicious, tender and perfectly nutritious sprouts. Combined with lettuce, soft goat cheese, and almonds under mint-honey seasoning, it's greatly energizing and mood-lifting. Its taste is like a fresh summer morning: light, refreshing and truly invigorating! So, with summer coming in a week, you're bound to try it!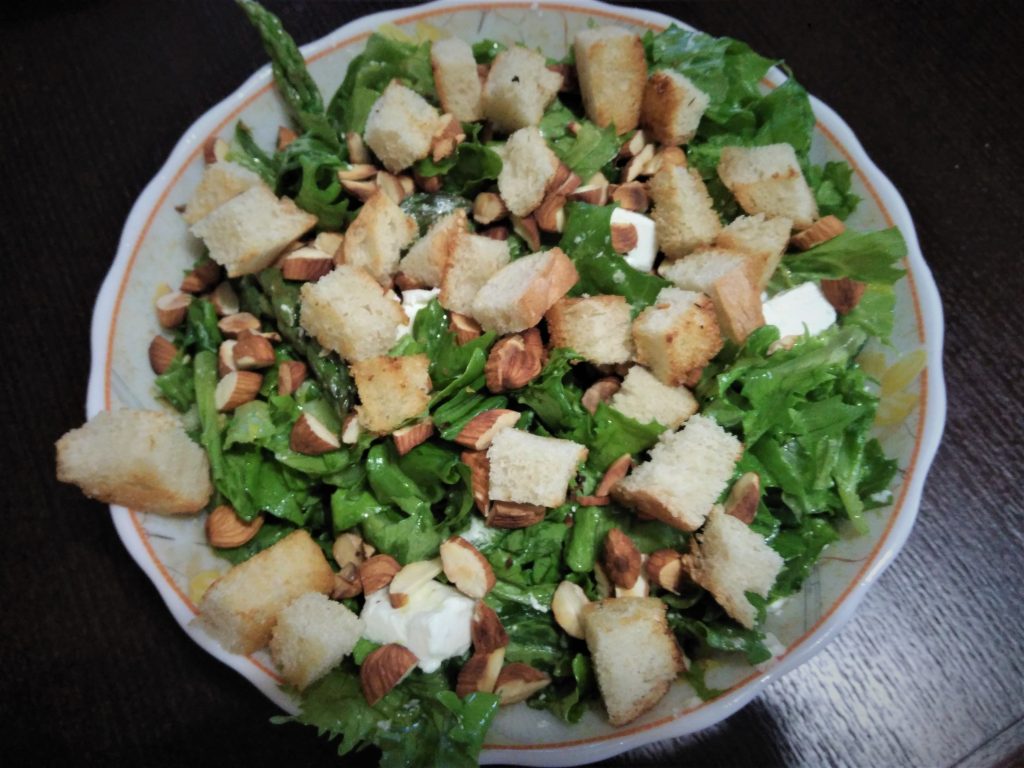 You'll need:
8 asparagus spears
1 tsp salt
½ tsp sugar
150 g lettuce
100 g goat cheese (can be replaces with feta cheese)
4 tbsp chopped almonds
4 slices of white bread, diced
1 tbsp oil
For seasoning:
40 ml olive oil
½ lemon juice and zest
2 mint branches, only leaves
1/3 tsp honey
¼ tsp salt
2 portions
Preparation:
1. Slightly brown chopped almonds at a dry pan. Let them cool down.
2. Smear another pan with 1 tbsp of oil and brown diced bread evenly.
3. Cut the tops off the asparagus spears and put them aside. Roughly chop the stems.
4. Bring a big pot of water to a boil, add sugar and salt. When the water's boiling, add asparagus stems. After 1 min, add also asparagus tops and boil everything together for 2 more min.
5. Drain the asparagus and quickly rinse it with cold water.
6. Put all the ingredients for seasoning in a food processor and blend until homogeneity.
7. Put lettuce in a bowl and add a half of the seasoning. Mix thoroughly.
8. Add asparagus, cheese and almonds and pour the rest of the seasoning over the salad.
Bon appetite!