For my whole life, I fairly disliked broad beans because of their slight bitterness – until I met this recipe, where the bitterness of tender beans is dissolved in and aptly combined with crunchy cucumbers, spicy onion and salty cheese, seasoned with truly invigorating dill! This salad is so refreshing and dietetic as to make it a perfect summer thirst-quenching salad that can replace light dinner, and it's really fast and easy to make. Give it a try!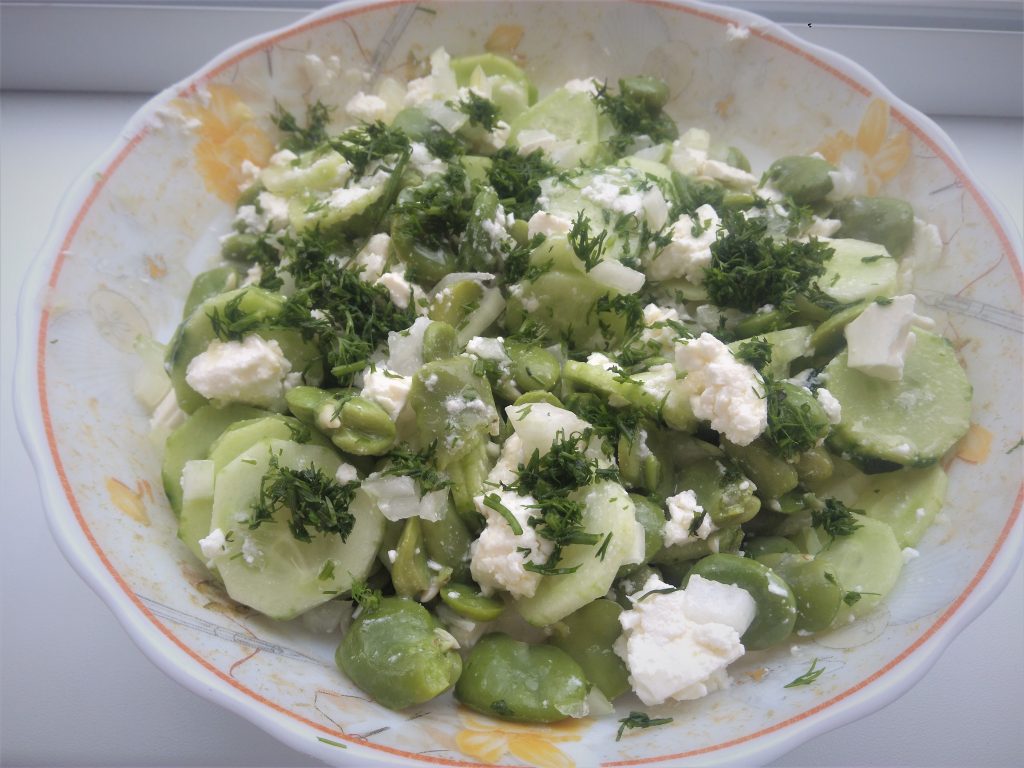 You'll need:
2 glasses or 0.5 litre jar of young broad beans
3 pickling cucumbers
½ onion, peeled and diced
100 g bryndza of Feta cheese, crumbled with hands
1/3 bunch of dill, finely chopped
Salt to taste
For dressing:
40 ml oil
¼ lemon juice
½ tsp honey
1 garlic clove
Preparation:
1. Peel the cucumbers, slice them and put them in chilled water (or add ice cubes to water).
2. Bring a large amount of water to a boil, and add young broad beans. Bring everything to a boil once more and cook for 2 min.
3. Drain the beans and rinse them with cold running water.
4. Peel the beans, removing the skins by splitting them with your fingernail and slipping out the bean.
5. Put all the ingredients for the dressing in a food processor and blend everything to homogeneity.
6. Mix the beans with drained cucumbers and onion, sprinkle it with half of the dressing and salt it to taste.
7. Put the salad in a serving bowl, sprinkle with bryndza and dill, and add the rest of the dressing.
Bon appetite!
NB: If you're apt to experimenting, you can replace dill with fresh mint and add new accents to this salad.