The celebration of Easter is as full of traditions as it is old, and one of such traditions is baking Easter bread. My family didn't use to bake Easter bread themselves and mostly bought it, until several years earlier I and my mom became interested in baking it ourselves. Since then, we've tried lots of different recipes, and this one is definitely our favourite: moderately sweet, with rich texture and aroma, soft and yellow as a chicken. If you still haven't found your ideal recipe or want to try something new, try this! You'll love it!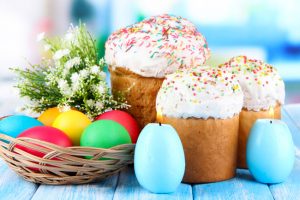 You'll need:
400 ml milk, room temperature
700 g flour
50 g yeast
1 tbsp honey
200 g sugar
10 egg yolks
2 big eggs (or 3 small)
½ tsp salt
200 g butter
2 packets vanilla sugar
100 g raisins (or other dried fruit)
65 ml cognac or rum
For frosting:
1 egg white
120-150 g icing sugar
1 tbsp lemon juice
4 average-sized Easter breads
Preparation:
1. Soak the raisins in boiling water. After 1 min, drain them and add some spirits (cognac or rum). Let it infuse for at least 3 hours (up to 10 hours).
2. Bring 300 ml of milk to a boil. In a separate bowl, prepare 125 g flour, and pour boiling milk into it. Stir actively until almost no clumps are left. Let it cool down to room temperature.
3. Dissolve yeast in the rest of milk and add it to the scalded flour. Mix everything thoroughly and let it sit for 20 min.
4. Mix the egg yolks and 2 eggs with sugar and salt.
5. Melt the butter at low heat and let it cool down.
6. Add the rest of the flour to the sourdough, along with honey, vanilla sugar, mixed eggs and melted butter. Knead very soft, sticky dough (6-8 min in food processor and 15-20 min with hands).
7. Cover the bowl with the dough with a damp towel and let it sit for 1.5 hour.
8. Drain the raisins keeping the liquid, and cover them in a thin layer of flour.
9. Add the raisins and the alcoholic liquid to the dough and knead it once more until the dried fruit are spread evenly.
10. Pre-heat oven to 190 o C.
11. If you're going to bake your Easter bread in metallic baking forms, smear them with a thin layer of butter or oil; if in paper ones – skip this.
12. Fill your baking forms with dough for a little more than ½ of their volume, cover them with a damp towel and let them rise to the top (40-50 min more).
13. Smear the tops of your Easter breads with an egg and put them in the oven. Bake for 30-60 min (depending on the size) until they brown and become easy to lift. You can check the readiness with a match.
14. Prepare frosting: whip 1 egg white to soft peaks. Continue whipping adding icing sugar spoon-by-spoon.
15. Add lemon juice and whip once more.
16. Cover cooled (!) Easter breads with frosting and decorate as you wish.
17. Patiently wait until Sunday and enjoy your home-made fragrant Easter bread!
Bon appetite!