These colourful and dietetic rolls are great for late winter and spring, the time when there are so few colours in nature and our bodies desperately lack some freshness and vitamins. Bright, crunchy vegetables combined with fried  chicken breasts and rolled in thin rice paper are complemented with truly delectable peanut sauce…mm! If you're looking for some really garden-fresh dish that will make you feel light as the first spring sunbeams, it's doubtlessly these chicken spring rolls!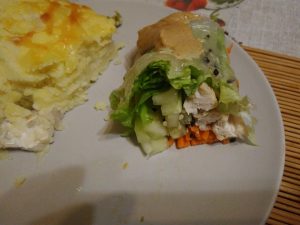 You'll need:
1 chicken breast, sliced
30 ml oil
2 small carrots, cut into strips
100 g lettuce
2 pickling cucumbers, peeled, cut into strips
3 tbsp sesame
10 sheets rice paper
For peanut sauce:
150 g peanut butter
2 tbsp soy cause
½ lime juice and zest (can be replaced with lemon)
1 garlic clove, peeled
10 rolls
Preparation:
1. Toast sesame seeds in a dry pan.
2. Pre-heat oil in a pan and fry the slices of chicken all sides.
3. Put all the sauce ingredients in a food processor and blend until homogeneity.
4. Take one sheet of rice paper and soak it in cold water and then immediately put it on a damp towel.
5. On one side of the paper, put some lettuce, 2-3 chicken slices, some carrot and cucumber and sprinkle it with sesame seeds. Carefully, but tightly wrap the rice paper to make a roll.
6. Repeat with the rest of rice paper sheets. While the others are being prepared, cover the ready ones with a damp towel to prevent them from drying.
7. Serve immediately with a generous portion of peanut sauce.
Bon appetite!
NB: Peanut butter can be made at home by blending roasted peanuts in a food processor until homogeneity.