This unforgettably tasty dish can be served as a salad, a side dish or even as a main dish. Fresh juicy cucumber, fragrant couscous, and delicious roasted almonds all punctuated with the sour-sweetness of pomegranate creates a truly divine combination! Moreover, it's absolutely Lenten – a great idea for this period of the year. So, go on!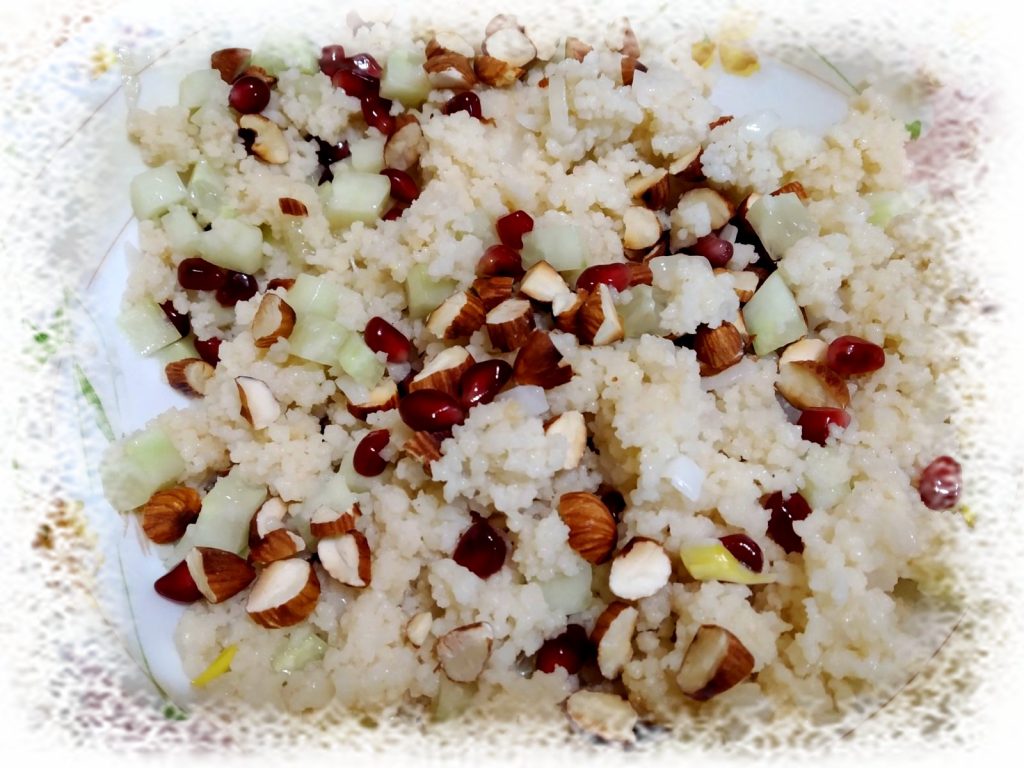 You'll need:
150 g couscous
300 ml vegetable broth (can be replaced with water)
1/3 pomegranate, deseeded
2 pickling cucumbers, diced
1 red onion, finely chopped
30 g almonds
For seasoning:
1.5 tbsp tahini
1 lemon juice
120 ml olive oil
1.5 tsp honey
Salt to taste
2-3 portions
Preparation:
1. Slightly roast almonds in a dry pan or oven and roughly chop them.
2. Blend all the seasoning ingredients until homogeneity. Add onion and let it marinate for 5-10 min.
3. Bring the broth to a boil and add couscous. Bring everything to a boil once more, thoroughly stir it, cover with a lid and turn off the heat. Let it swell for 5-7 min.
4. Mix couscous with pomegranate seeds, onion, and seasoning, and stir thoroughly.
5. Before the very serving, add cucumbers, stir once more, and sprinkle couscous with almonds. Serve immediately!
Bon appetite!
P.S. As an alternative to couscous, bulgur or rice can be also used, and almonds can be replaced with walnuts.