These incredibly aromatic crescent rolls are a perfect choice for these spring yet cold days. Spicy scent of cinnamon mixed with the scent of ground  walnuts and butter of the shortcrust pastry will definitely infatuate you and inspire you, and make these days far sunnier and cozier. So, go on (and don't forget a cup of tea)!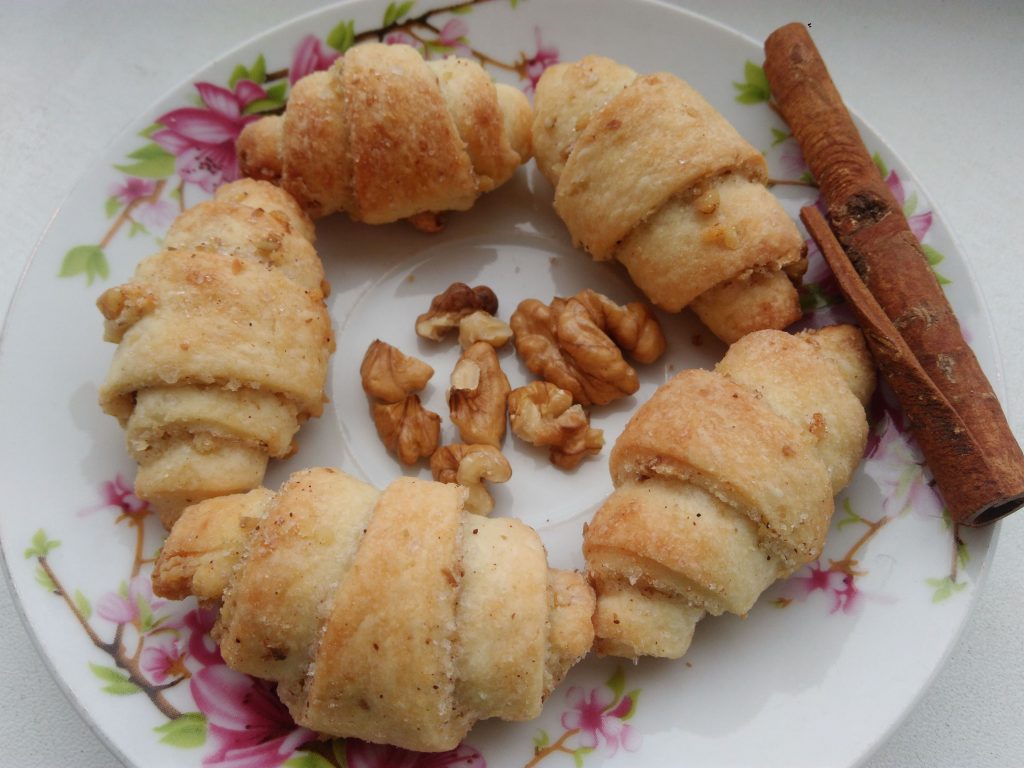 You'll need:
220 g chilled butter, chopped
320 g flour
110 g sour cream
1 egg yolk
110 g sugar
120 g walnuts (without shell)
1.5 tsp ground cinnamon
Powdered sugar for sprinkling
Preparation:
1. Pulverize butter with flour and 3 tbsp of sugar.
2. Mix the sour cream with a yolk and add to the dough. Quickly make dough.
3. Cover the dough with cling film and put it in the fridge for 1 hour.
4. Blend the walnuts, sugar and cinnamon in a food processor until fine crumbs. If you don't have a food processor, chop the walnuts finely and mix them with sugar and cinnamon.
5. Pre-heat oven to 180 o C.
6. Get the dough out of the fridge and divide it into 3 parts. Take one part and put the rest in the fridge.
7. Roll out the dough into a thin round sheet and sprinkle it generously with 1/3 of walnut-cinnamon mixture. Divide it across into 16 pieces (first, divide it in half, then into 4 pieces, then 8 and so on). Tightly roll the crescent rolls and put them on a baking sheet covered with parchment paper.
8. Do the same with the rest of the dough.
9. Put the crescent rolls in the oven and bake them for 10-15 min until begin to brown.
10. When the crescent rolls cool down, sprinkle them with powdered sugar.
Bon appetite!