Could you imagine beans being one of the key ingredients in an exquisite delectable cream soup? Yet, this seemingly rustic filling vegetable when combined with white wine, sweet stewed onion and the freshness of lemon zest creates something really unforgettable, while garlic croutons add a  finishing stroke and balance the creaminess of the soup. Just give it a try and you'll be genuinely surprised!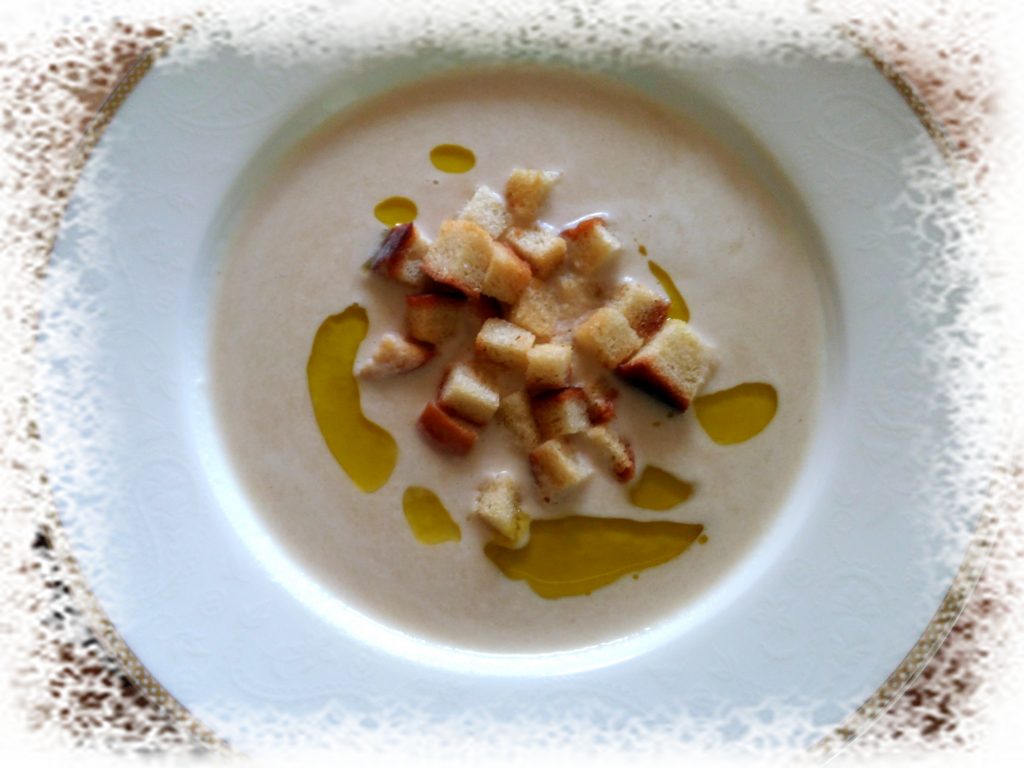 You'll need:
50 ml olive oil (can be substituted with refined sunflower oil)
2 onions, sliced into half-moons
1 tsp sugar
2 cloves of garlic
150 ml dry white wine
0.8 ml vegetable or chicken broth (can be substituted with water)
600 boiled beans
200 ml heavy (whipping) cream
1 lemon's zest
Salt and pepper to taste
For garlic croutons:
1 loaf wheat bread
50 ml oil
50 ml melted butted
1 tsp garlic powder (or granulated garlic)
1 tsp salt
Preparation:
1. Pre-heat oven to 180 o C.
2. Roughly chop the bread (aprrox. 1 cm from every side).
3. Mix oil and melted butter and pour 1/3 of this mixture over the chopped bread. Add garlic powder and mix thoroughly. Pour another 1/3 of the mixture over the bread and mix thoroughly. Repeat once more.
4. Spread the chopped bread evenly over baking pan tray and bake for 10-15 min until begins to brown.
5. Mix thoroughly and bake for 5 more min.
6. Take the croutons out of the oven and immediately season with salt. Mix them, and let them cool down on the tray.
7. Meanwhile, warm the oil for soup in a 3-litre pot, add onion, sugar and salt to taste. Stew until the onion softens.
8. Add garlic, stew for 1 more min, and add wine. Boil until almost all the moisture evaporates.
9. Add beans and broth, salt to taste and boil for 5 min.
10. Pour the cream and add lemon zest. Bring the soup to a boil and put aside 1 cup of the soup liquid.
11. Puree the soup with a hand blender until homogeneity. If the soup's too thick, add some more liquid and blend it once more.
12. Serve with garlic croutons, olive oil and black pepper.
Bon appetite!
NB: For this soup, it's very important that the beans' peel is really soft. To achieve this, soak the beans in water for 12 hours and add a pinch of baking soda when boiling them.