This is a perfect winter salad: dietary, healthy, light and extremely nourishing. It doesn't require any main course to go with and can doubtlessly replace your lunch or dinner. By the way, it's really delicious (even if you hate beet as I do!): creamy chickpeas, sweet baked beet, crunchy walnuts and salty Feta cheese with marinated onion under sour-sweet dressing. It's certainly worth giving it a try!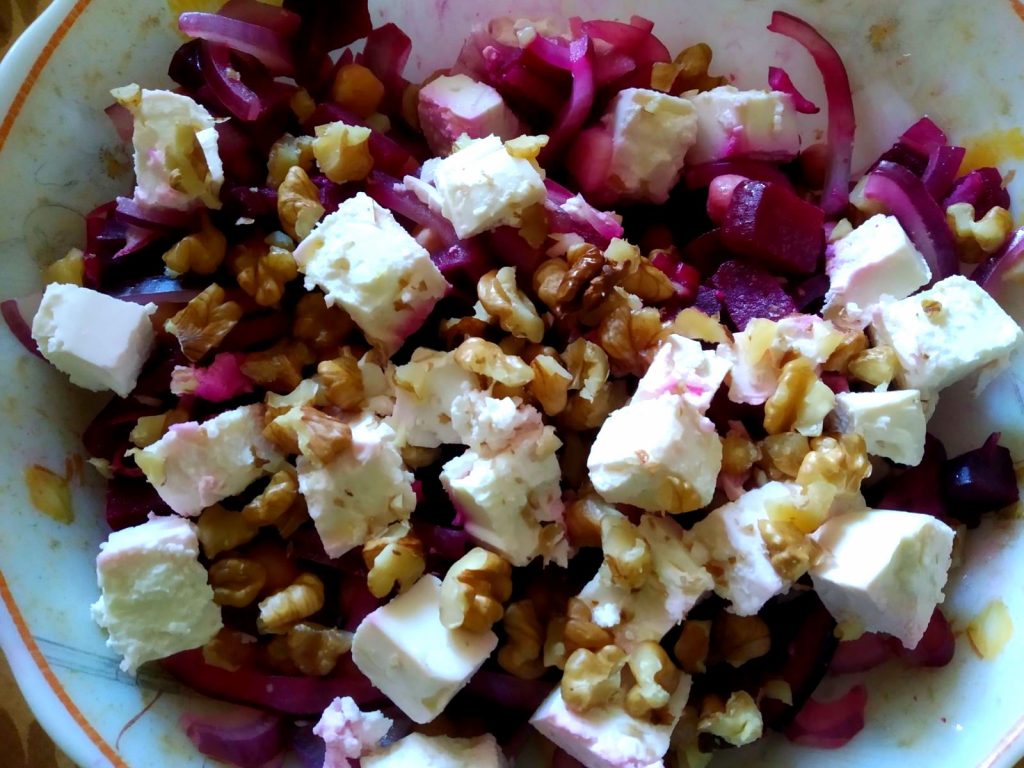 You'll need:
50 g dry chickpeas (or around 150 g canned chickpeas)
2 average beets, washed
100 g Feta cheese, roughly diced
30 g walnuts
1 red onion (can be replaced with common yellow onion)
½ tsp ground cumin (optional)
Salt and black pepper to taste
For dressing:
45 ml olive oil
20 ml lemon juice
½ tsp honey
Preparation:
1. Soak chickpeas in a large amount of water for 8-12 hours.
2. Strain chickpeas, cover them with fresh water and boil for 1 hour.
3. Pre-heat oven to 190 o C.
4. Wrap the beets in foil, put them in the oven and bake for approx. 1 hour. Peel them and dice.
5. Blend all the ingredients for the dressing.
6. Soak onion in the dressing for 5 min.
7. Put the baked and diced beets at the bottom of the serving bowl. Add chickpeas and onion, and salt to taste.
8. Evenly sprinkle the salad with half of the dressing.
9. Add cheese and the rest of the dressing.
10. Sprinkle the salad with walnuts and cumin. Add black pepper to taste. Serve immediately!
Bon appetite!
NB: Steps 1-4 can be done well in advance; both boiled chickpeas and baked beets can wait in the fridge for 3-4 days.