This dish is the best breakfast ever: nutritious, full of protein, filling and absolutely delicious. Soft yolk mixed with slightly spicy sauce covering chickpeas and spinach… mmm! Try this and you'll never return to humdrum everyday omelets.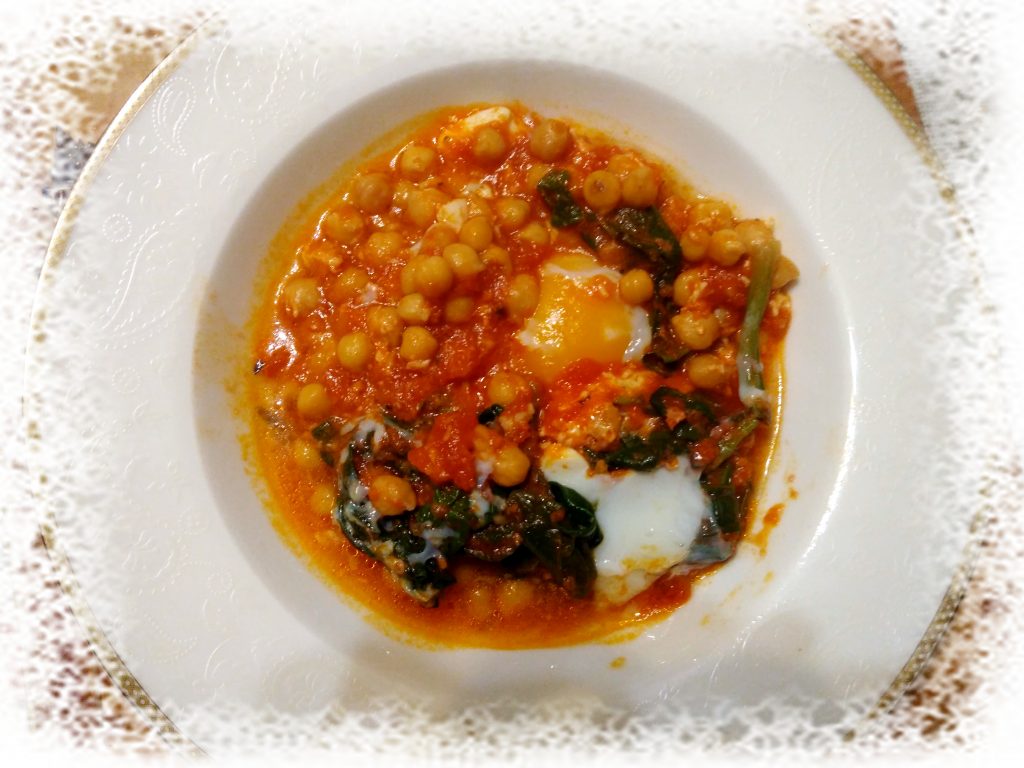 You'll need:
3 tbsp olive oil
2 cloves of garlic, minced
2 sprigs of thyme (or ½ tsp dried thyme)
2 tsp any spicy tomato sauce
100 g chickpeas
100 g spinach (fresh or frozen)
200 g crushed tomatoes
2 tsp paprika (if you like spicy dishes, you can substitute 1 tsp paprika for 1 tsp chili flakes)
2 eggs
Salt and black pepper to taste
2 portions
Preparation:
1. Soak chickpeas in a large amount of water for 8-12 hours.
2. Strain chickpeas, cover them with fresh water and boil for 1 hour.
3. Pre-heat oven to 190 o C.
4. Heat oil, garlic and thyme in an ovenproof frying pan and stir-fry until garlic begins to brown.
5. Add chickpeas and tomato sauce and stir-fry for 2 more min.
6. Add crushed tomatoes, spinach (if you use frozen spinach, melt it and drain before) and salt to taste. Bring to boiling.
7. Stir thoroughly and crack the eggs between the chickpeas.
8. Put the pan in the oven and bake the eggs for 3-5 min until the whites harden but the yolks remain runny.
9. Take the pan out of the oven and serve immediately.
Bon appetite!
NB: You can cook chickpeas in advance to make the preparation much quicker. If you don't have an ovenproof pan, you can use any baking dish. In this case, before putting the chickpeas in an oven, put them in a baking dish, make hollows for eggs and then crack the eggs into the hollows. Bake for 2 more min.