This incredibly tasty broccoli pie makes for a perfect lunch or dinner: so soft, juicy, healthy and hearty! Tender broccoli, nourishing chicken and fragrant pepper connected by cheesy filling and wrapped in thin crunchy dough… It will make your mouth water, and you'll swallow it hot unable to wait for it to cool down! Or you're incredibly strong-willed.  Anyway, just give it a try and you'll never forget it!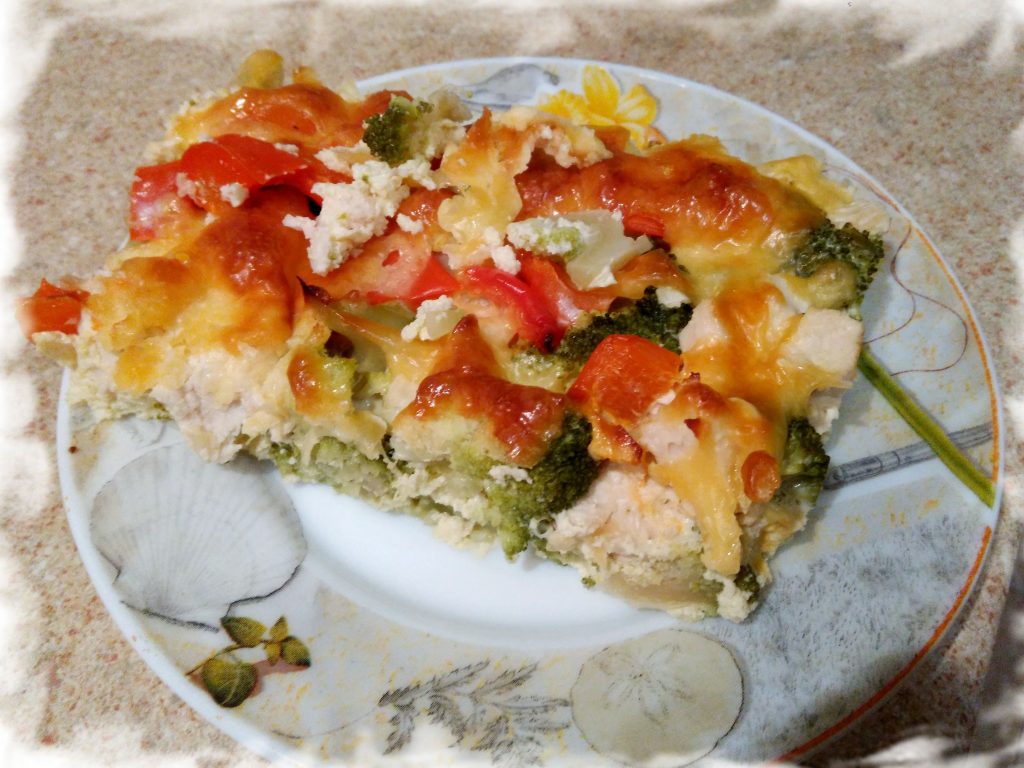 You'll need:
For dough:
250 g flour
1 tsp baking powder
80 g butter, well-chilled
A pinch of salt
Filling:
300 g broccoli, cut into florets
250 g chicken breasts, boiled and divided into fibres
1 pepper, roughly chopped
100 g cheese, roughly grated
3 eggs
100 ml sour cream
A pinch of salt
24-26 cm springform baking tin
Preparation:
1. Mix all the dry ingredients for dough. Chop the butter very quickly and add it to the dry mixture. Pulverize the mixture with your hands.
2. Knead the dough quickly and put it in a springform baking tin. Flatten it with your hands and spread it so as to make lips. Put the tin in the fridge.
3. Pre-heat oven to 200 C.
4. Boil broccoli in large amount of water for 3 min. Drain.
5. Thoroughly mix the eggs with sour cream and salt. Add cheese and mix once more.
6. Take the tin out of the fridge. Put broccoli, chicken and pepper in the tin with dough and pour in the egg-cheese mixture.
7. Bake for 40-50 min until it browns. Let it cool down for 10 min, then take the sides of the tin off, cut into pieces and serve.
Bon appetite!
NB: My family liked the filling in this pie so much that we decided to skip the dough part and bake only the filling (doubling and even tripling the ingredients) in a simple baking pan. This time it's even more dietetic and … you get the heart of it immediately!