Are you hungry? Just imagine: cloud-soft, melt-in-your-mouth dough, creamy, moist plums, and crunchy sprinkling… Mmm, these plum buns are truly delectable! And though I usually eat buns only when I'm extremely hungry and have no other option, these buns are really wonderful, and you won't be able to stop until you devour the last tiny bit. Beware, after you try them, you'll never be able to savor store-bought buns and will probably become bun addict ! Would you dare to risk?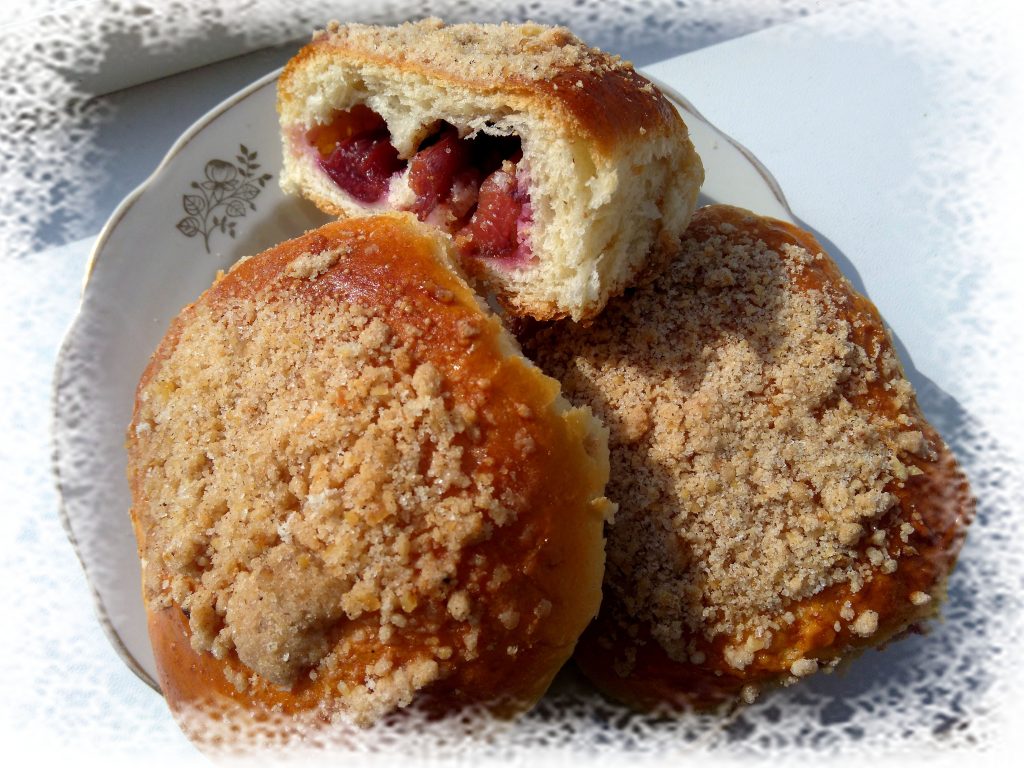 You'll need:
For dough:
550 g flour
20 g fresh yeast
170 ml milk
100 g sour cream
50 g butter, melted
2 eggs
100 g sugar
Filling:
400 g deseeded plums, cut into 4 pieces
50 g sugar
1 tsp starch
1 tsp cinnamon
For sprinkling:
70 g flour
70 g walnuts
60 g sugar
70 g butter, chilled
1 tsp cinnamon
1 eggs
15 buns
Preparation:
1. Blend sugar, milk and yeast until yeast dissolves.
2. Add sour cream, eggs, flour and butter. Knead for 4-5 min in the food mixer or 8-10 min with hands.
3. Cover the bowl with the dough with a lid or damp towel and let it sit for 2 hours until doubled in size.
4. Punch the dough down and divide into 15 pieces (each approx. 70 g).
5. In another bowl, thoroughly mix the plums, sugar, cinnamon and starch.
6. Flatten every piece and put 3 pieces of plums on top of each.
7. Carefully seal the lips of the buns and put them on a baking pan covered with parchment paper. Let them rest for 45 min.
8. Meanwhile, pre-heat the oven to 180 o C.
9. Thoroughly mix all the ingredients for the crunchy sprinkling in a food mixer. If you don't have one, mix all the dry ingredients, chop the butter very quickly and add it to the dry mixture. Pulverize the mixture with your hands.
10. Smear the buns with beaten egg and sprinkle them with butter-flour mixture.
11. Bake for 30-40 min until the buns raise and brown.
12. Let the buns sit for 5 min on the baking pan. Then, put them in a serving dish and let them cool down.
Bon appetite!
NB: You can as well use apples, pears, berries etc. instead of plums.