These aromatic vanilla crescent rolls belong to the Austrian national cuisine and are traditionally baked for Christmas. And although it's already well past Christmas, winter is still right there, behind the window. So, don't waste your time and give these rolls a try, for they are extremely easy to cook and taste really divine!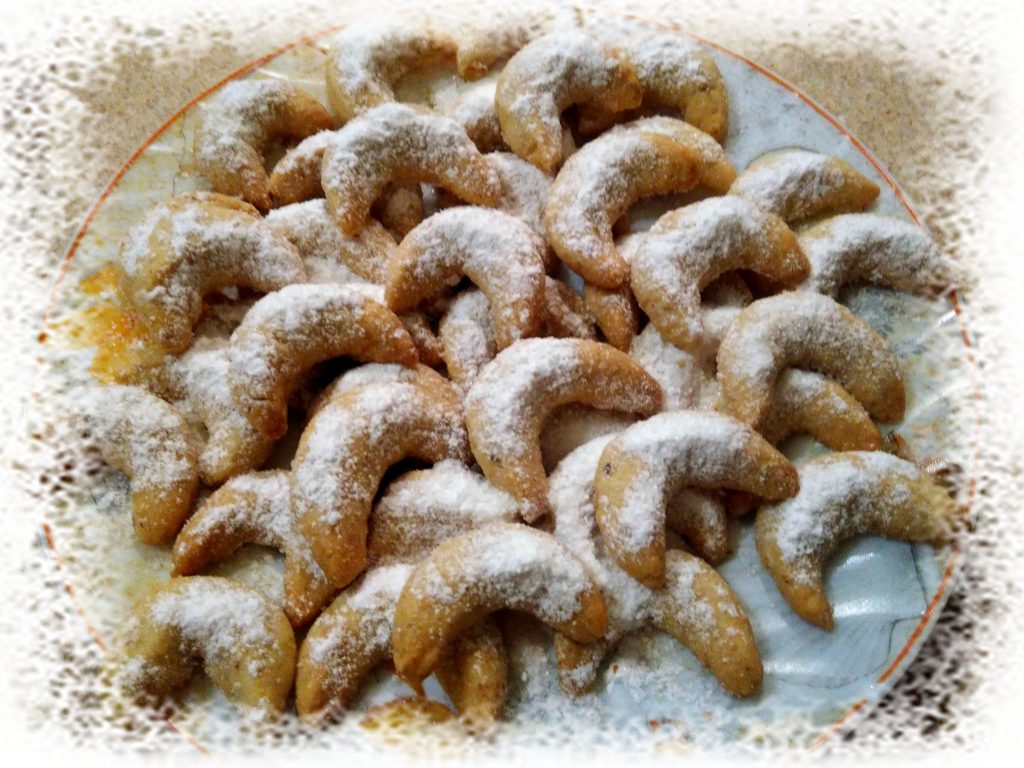 You'll need:
150 g flour
110 g butter, chilled and chopped
60 g walnuts
40 g sugar
1 packet of vanilla sugar (8 g)
For dusting:
1 tbsp sugar
0.5 packet of vanilla sugar
1 tbsp powdered sugar
Preparation:
1. Pre-heat oven to 180 o C.
2. Put the walnuts in the oven and slightly brown them for about 5-10 min.
3. Take them out of the oven and let them rest for 5 min. Then, rub them thoroughly with a towel or your hands to peel the thin skin off.
4. Put the flour, sugar, vanilla sugar and nuts in a food processor and blend until the walnuts are perfectly grinded. If you don't have a food processor, just grate or chop the nuts finely, and mix them with all the dry ingredients.
5. Add butter and blend until lumps begin to form. If you don't have a food processor, add the chopped and chilled butter to the dry mixture and quickly pulverize it with your hands.
6. Make a dough ball, wrap it in cling film and put it in the fridge for 30 min.
7. Take the dough out of the fridge, and pre-heat the oven to 180 o C once more.
8. Divide the dough in half, and make 'sausages' (approx. 4 cm diameter) out of each part. Slice each 'sausage' into pieces approx. 0.5 cm wide, and turn every slice into a crescent roll by forming a slightly curved stick with thicker middle part and thin ends. Put your rolls on a baking sheet covered with baking parchment.
9. Bake the rolls until they begin to brown (approx. 25-30 min). Take the rolls out of the oven and let them cool down for 5 min.
10. Meanwhile, blend all the types of sugar for dusting in a food processor, and thoroughly sprinkle the crescent rolls with powdered sugar mixture.
Bon appetite!
NB: You may as well use almonds or hazelnuts instead of walnuts, but they rolls may partially lose their nutty flavor.