This light Italian-style salad with soft mozzarella, fragrant basil, sweet tomatoes, bits of bacon and a delicious sauce is like a whiff of summer in the midst of dull winter. It's perfectly easy to cook and can make for a romantic Italian dinner with a glass of dry red wine. Or, more prosaically, it can be a side dish for any meat or fish. Try it and bring some bright freshness in your daily routine!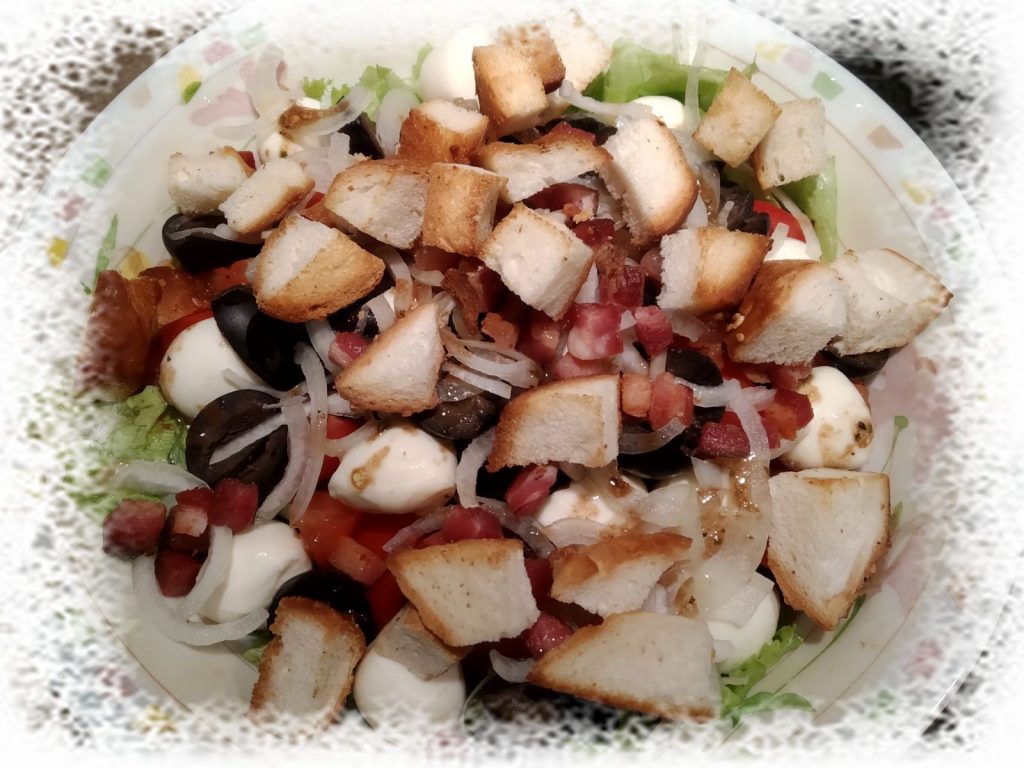 You'll need:
150 g lettuce
150 g baby mozzarella (can be replaced with common mozzarella, sliced)
10-12 black olives
½ average onion, cut into half moons
3 average tomatoes, chopped (or 8 cherry tomatoes, cut into halves)
3 slices of wheat bread, roughly diced
50 g bacon, finely chopped
3 tbsp oil
½ basil bunch, sliced
For dressing:
40 ml olive oil
15 ml balsamic vinegar
½ tsp mustard
Preparation:
1. Thoroughly mix all the ingredients for the dressing.
2. Brown bacon slightly on the frying pan and put it in the bowl covered with paper towel.
3. Add oil to the same frying pan and brown the bread. Salt to taste.
4. Put lettuce and tomatoes in the serving bowl. Sprinkle them with 1/3 of the dressing.
5. Add olives, mozzarella balls, and onion. Sprinkle with another 1/3 of the sauce.
6. Spread bacon and croutons evenly over the salad, add the rest of the sauce, and season the salad with basil and ground pepper. Serve immediately!
Bon appetite!