Chicken is the most dietetic and healthy type of meat with incredibly high protein content. Yet, quite often chicken, especially its breast, is dry and tasteless. Often, but not in this recipe: chicken salted and baked this way is sooo juicy and aromatic that it really tastes like store-bought ham. It's a perfect idea for various sandwiches and salads, for festive boards, or just by itself for lunch. Spicy, fragrant, and evenly salted, it's an easy way to make children and meat-haters fall in love with it. Give it a try!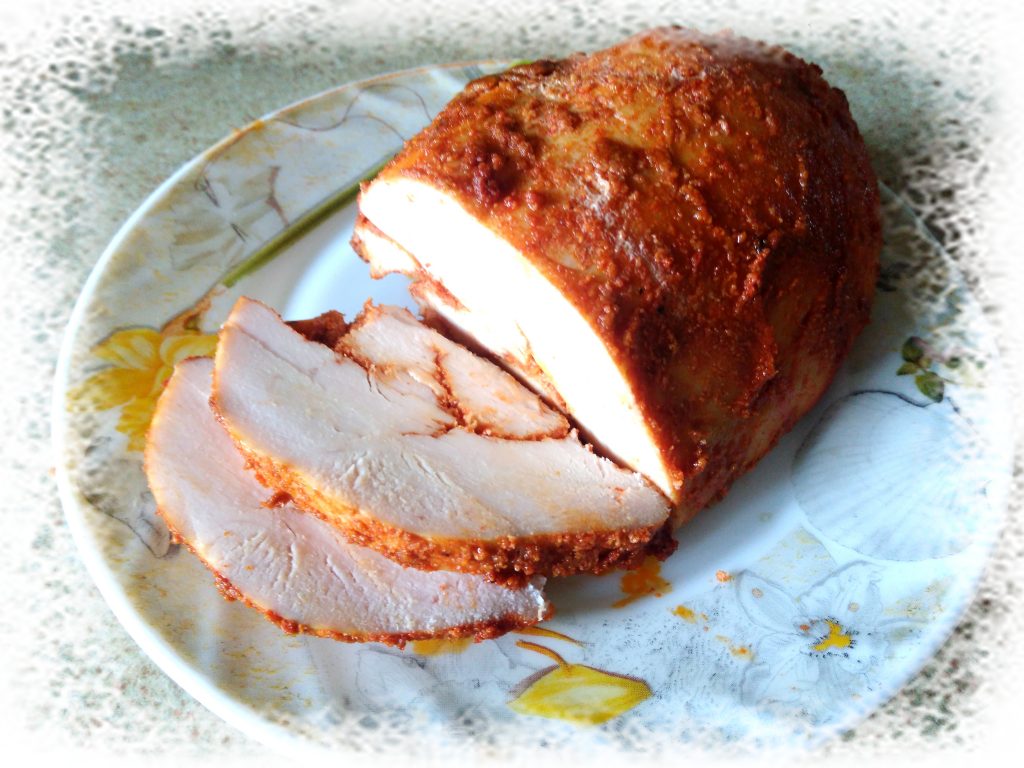 You'll need:
2 chicken breasts, skins removed
30 ml olive oil
For brine:
2 l water
70 g salt
20 g sugar
2 tsp mustard seeds
1 tsp chili pepper flakes (optional)
1 tsp whole black pepper
2 tsp coriander seeds
4 whole allspice berries
2 garlic cloves, cut into halves
For the spicy mixture:
1 tsp garlic powder
1 tsp onion powder (optional)
3 tsp ground paprika
1 tsp ground coriander
½ tsp freshly ground black pepper
½ tsp ground cumin
Preparation:
1. Put all the ingredients for the brine in a saucepan and bring it to a boil. Turn the heat off, cover the pan with a lid (otherwise your brine will evaporate), and let the brine cool down completely.
2. Once the brine is completely cold, put the chicken breasts in and let them marinate for 4-8 hours.
3. Take the chicken breasts out of the brine and dry them with paper towels.
4. Mix all the spices for the spicy mixture in a separate bowl.
5. Thoroughly smear the chicken breasts with oil and roll them in spices so that they cover the meat like paste. If necessary, add some more oil.
6. Put the chicken breasts on an oven rack, and put the rack atop a baking tray.
7. Heat the oven to 120 o C.
8. Put the chicken breasts in the oven and bake them until their inner temperature is 70 o C, or until transparent juice appears when pierced; approx. 45-60 min.
9. Let the meat cool down completely before cutting. Store in fridge up to 7 days, or freeze if needed.
Bon appetite!
NB: If you prefer turkey, it can be cooked the same way, but increase the marinating time to 8-10 hours.