Autumn is the time for different types of cabbage, and broccoli is like the queen among them, being extremely nutritious, healthy, and full of vitamins. However, broccoli has a strong aroma that not everyone loves, and here comes this soup. Being pleasantly creamy, thick, and served with garlic croutons, this American-style soup is a very simple and tasty way to enjoy this vegetable – or to fall in love with it. So, catch the moment!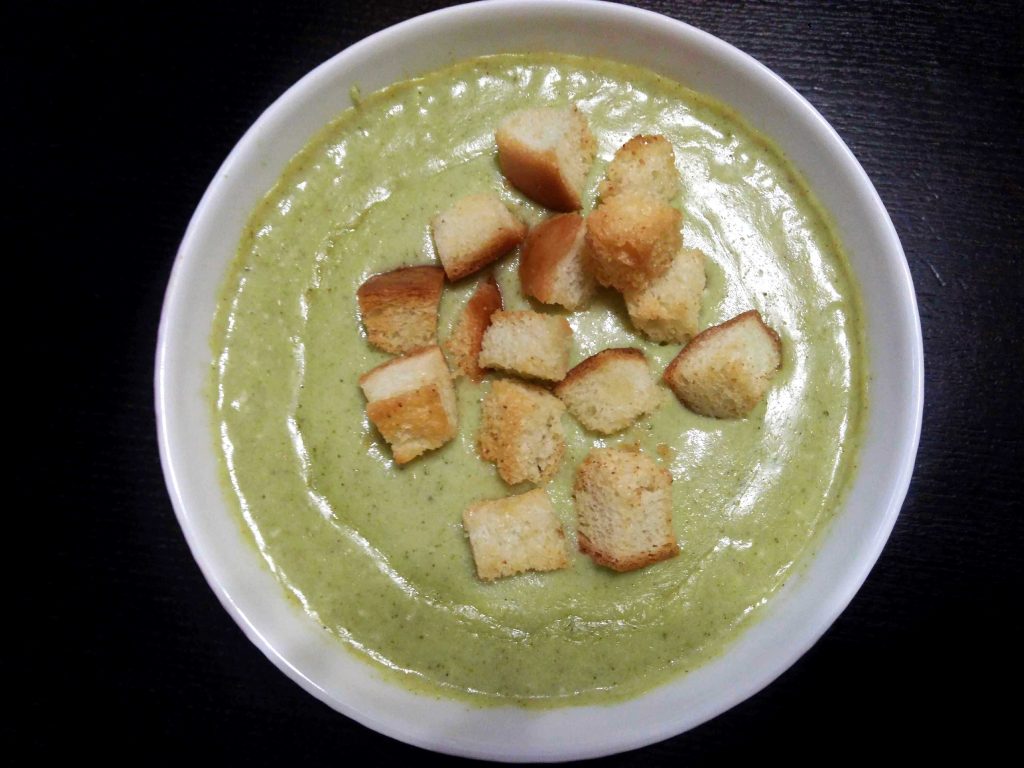 You'll need:
1 big onion, peeled and diced
30 ml oil
30 g butter
50 g flour
1 l chicken or vegetable broth, or water
2 average-sized broccolis, roughly cut (together with stems)
250 ml cream, 20-30%
A pinch of sugar
Salt and pepper to taste
For garlic croutons:
1 loaf wheat bread
50 ml oil
50 ml melted butter
1 tsp garlic powder (or granulated garlic)
1 tsp salt
Preparation:
1. Pre-heat oven to 180 o C.
2. Roughly chop the bread (approx. 1 cm from every side).
3. Mix oil and melted butter and pour 1/3 of this mixture over the chopped bread. Add garlic powder and mix thoroughly. Pour another 1/3 of the mixture over the bread and mix thoroughly. Repeat once more.
4. Spread the chopped bread evenly over the baking tray and bake for 10-15 min until begins to brown.
5. Mix thoroughly and bake for 5 more min.
6. Take the croutons out of the oven and immediately season with salt. Mix them, and let them cool down on the tray.
7. Meanwhile, warm the oil and butter in a 3-liter pot.
8. Add onion, sugar, and salt, and stir-fry until the onion completely softens.
9. Add flour and stir-fry until begins to brown.
10. Add broth or water and bring it to a boil.
11. Add broccoli, salt to taste, and cook it on medium heat until softens. Be careful not to overcook it!
12. When the broccoli is easy to pierce with a knife, blend everything until homogeneity with a hand blender.
13. Add cream and thoroughly mix everything. Bring the soup to a boil once more and turn off the fire. Taste the soup and add salt or water (broth) if needed.
14. For even creamier consistency, pass the soup through a sieve.
15. Serve hot with garlic croutons and black pepper.
Bon appetite!