These Jewish biscuits were my variant of celebrating of the Transfiguration of Our Lord when traditionally we're supposed to eat lots of poppy seeds and fruit. They have it all: crunchy shortcrust base, creamy apple, and fragrant poppy fillings, and funny shape. They taste like August: still summer, but with a hint of autumn in the air; and sprinkled with honey… mmm. These biscuits very easy to make, probably the easiest I've ever cooked, – and to eat (bet that
you'll lose control of how many you ate)! So, give them a try!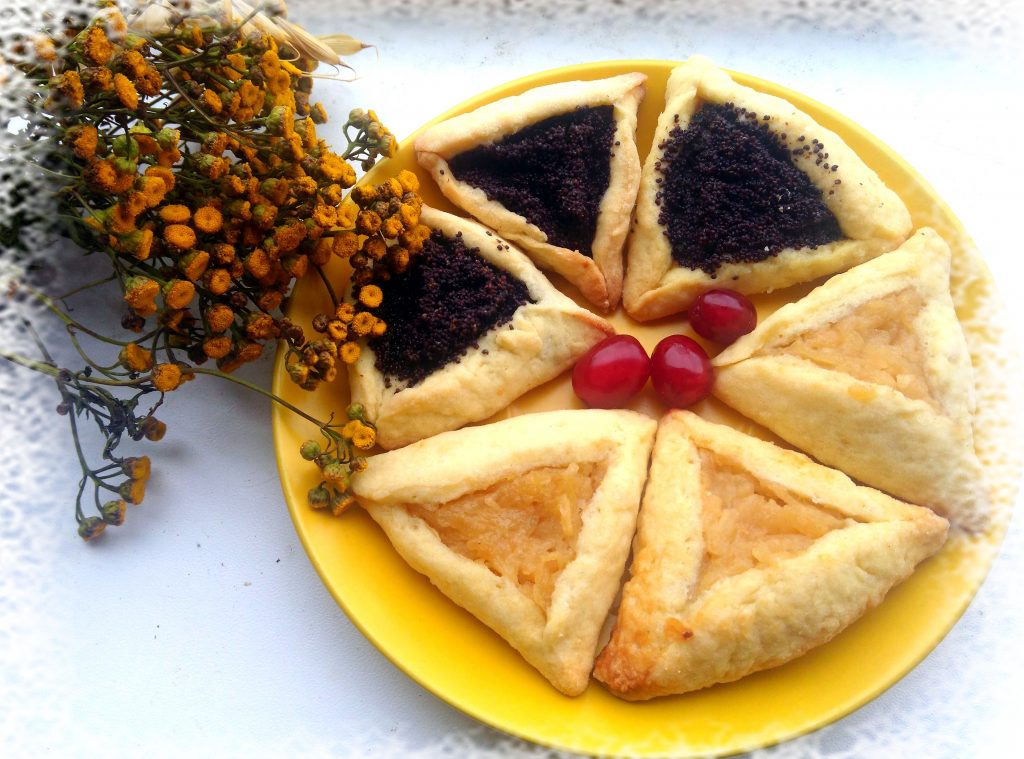 You'll need:
180 g butter, room temperature
120 g sugar
1 egg
300 g flour
30 ml water
For poppy filling:
120 g poppy seeds
100 ml water
60 g sugar
1 egg
For apple filling:
2 middle-size apples, peeled, roughly grated
50 g condensed milk
30 ml sugar
Preparation:
1. Put milk and poppy seeds in a sauce pan, bring them to a boil, and let them swell for 8 hours.
2. In another sauce pan, put apples, condensed milk, and sugar. Cook them on low heat, mixing frequently, until apples become soft and almost all the liquid vaporizes. Let them cool down.
3. Mix butter with sugar until homogeneity using hand mixer. Add an egg, continuing to mix.
4. Add flour and water, and mix everything thoroughly, making soft and a bit sticky dough. Cover the dough with cling film and put it in the fridge for 30-50 min.
5. Drain the poppy seeds, put them in a food processor, add sugar, and finely pulverize them.
6. Add an egg and mix everything once more. If the poppy mixture is too watery, drain the excessive egg white.
7. Pre-heat oven to 180 o C.
8. Roll out the dough thinly on a surface previously sprinkled with flour, and cut out the circlets using a mug or special rings.
9. Put some filling in the middle of each circlet and wrap the edges so as to make triangles. Be sure to press the edges well, so that hamantaschen keep their form in the oven.
10. Cover the baking tin with parchment paper and move the biscuits there.
11. Bake for 15-20 min until hamantaschen begin to brown. Let them cool down and serve with tea and honey.
Bon appetite!
NB: Instead of poppy and apples you can use any jam you like, but it shouldn't be too liquid.