This incredible cake can be truly called a fitness cake with no fats added, and still its taste is really exquisite like rich-texture fragrant brownie. The cream, although contains a bit more calories, is moderately sweet and perfectly complements the cake. It is even more balanced by a bit of crispy fresh fruit. So, if you have a bit of free time and a desire for some delicious light and moderately sweet cake, you've found it!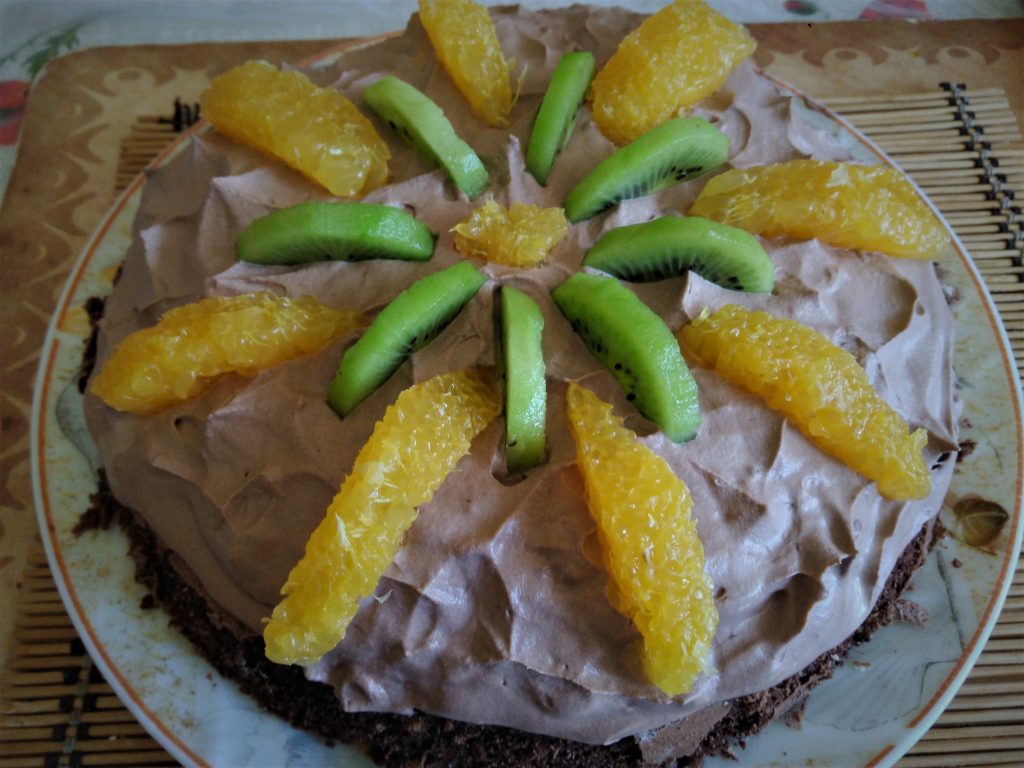 You'll need:
100 g dark chocolate
6 egg whites (around 180 g), room temperature
150 g icing sugar
40 g flour
50 g hazelnuts
1 orange zest
A pinch of salt
For cream and decorations:
250 g whipping cream (30-35%)
1 tbsp cocoa powder
50 icing sugar
2 oranges
2 kiwi fruit
20-24 cm springform baking tin
Preparation:
1. Pre-heat oven to 180 o C.
2. Put the hazelnuts in a baking tin in one layer and bake for 6-10 min until they are easy to peel.
3. Let them cool down and peel them.
4. Put the nuts and flour in a food processor and blend them until small crumbles.
5. Pre-heat oven to 160 o C.
6. Smear the baking tin with a thin layer of butter and sprinkle it with flour. Shake out the excess.
7. Slowly melt the chocolate at a water bath so that the bottom of the bowl doesn't touch the water.
8. Beat egg whites with a pinch of salt until medium peaks. Continuing beating, add icing sugar in parts, and then chocolate.
9. Add nuts and orange zest and thoroughly mix once more.
10. Pour the dough in the pre-prepared baking tin and bake for 25-30 min.
11. Turn off the oven, slightly open the door leaving only a small crack and let the cake cool down (in the oven).
12. Whip the cream to stiff peaks, in the middle of whipping adding cocoa powder and icing sugar.
13. Peel the oranges and kiwi fruit. Divide oranges into segments and peel the inner membranes, slicing them off at the outer side. Cut the kiwi fruit along into halves and slice them.
14. Take the cake out of the tin and decorate it with whipped cream and fruit.
Bon appetite!