What do you think of a bit of British classic? Fish pie is as traditional a part of British cuisine, as varenyky – of Ukrainian one; and even if you're not British – I'm sure that you'll like it! Just add some magic ingredients: your favourite fish fillet, tender canned peas and corn, delicious golden onions and creamy sauce, cover it all with soft pillow of mashed potato and you'll get a filling, mouth-watering and truly unforgettable dish for cold rainy days! Sounds enticing, doesn't it?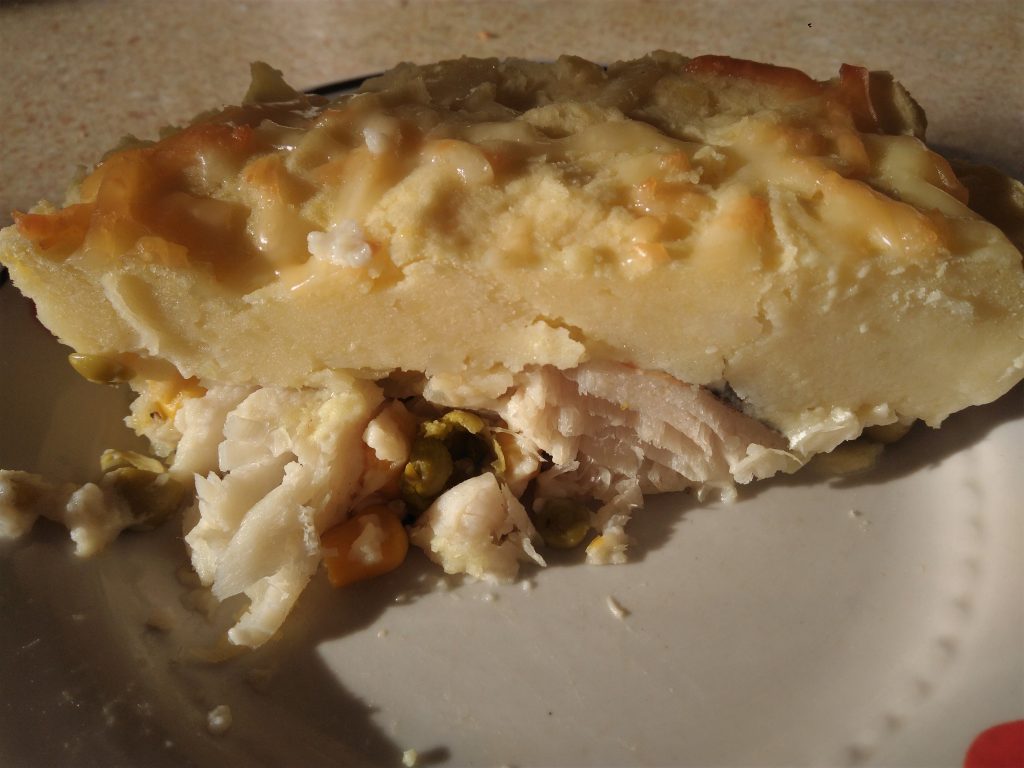 You'll need:
600 g any saltwater fish fillet (I used hake), diced
1 onion, peeled, cut into half-moons
20 g butter
50 g canned peas
50 g canned corn
1 kg potato, peeled, diced
100 g any semi-soft cheese, roughly grated
1 egg
Salt to taste
A pinch of sugar
A pinch of ground white pepper (optional)
For Bechamel sauce:
400 ml milk
25 g butter
25 g flour
Preparation:
1. Prepare Bechamel sauce: slowly melt butter in a saucepan, add flour and slightly brown it. Add milk and mix thoroughly so that no clumps are left. Cook on a low heat until the sauce thickens, actively stirring all the time.
2. Meanwhile, in another pan, melt butter, add onion, and salt and sugar it. Stew on a low heat until the onion caramelizes.
3. Cook potatoes in huge amount of boiling water. Drain them, mash, add half of cheese and an egg. Mix thoroughly.
4. Pre-heat oven to 180 o C.
5. Smear your baking form with a thin layer of butter.
6. Add caramelized onion, fish, peas and corn to Bechamel sauce. Salt and pepper it to taste.
7. Put the fish with sauce in your baking form and spread evenly. Add mashed potatoes and smooth them again. Sprinkle your bake with the rest of the grated cheese.
8. Bake for 35-45 min until the top slightly browns. Serve hot.
Bon appetite!