These delicious, cheesy and spicy 'mandarins' – with a hint of carrot sweetness or delicate nutty flavor – make for a perfect winter appetizer. They're so bright, colourful and tasty they'll disappear from your table the quickest! An incredible idea to surprise your guests or family!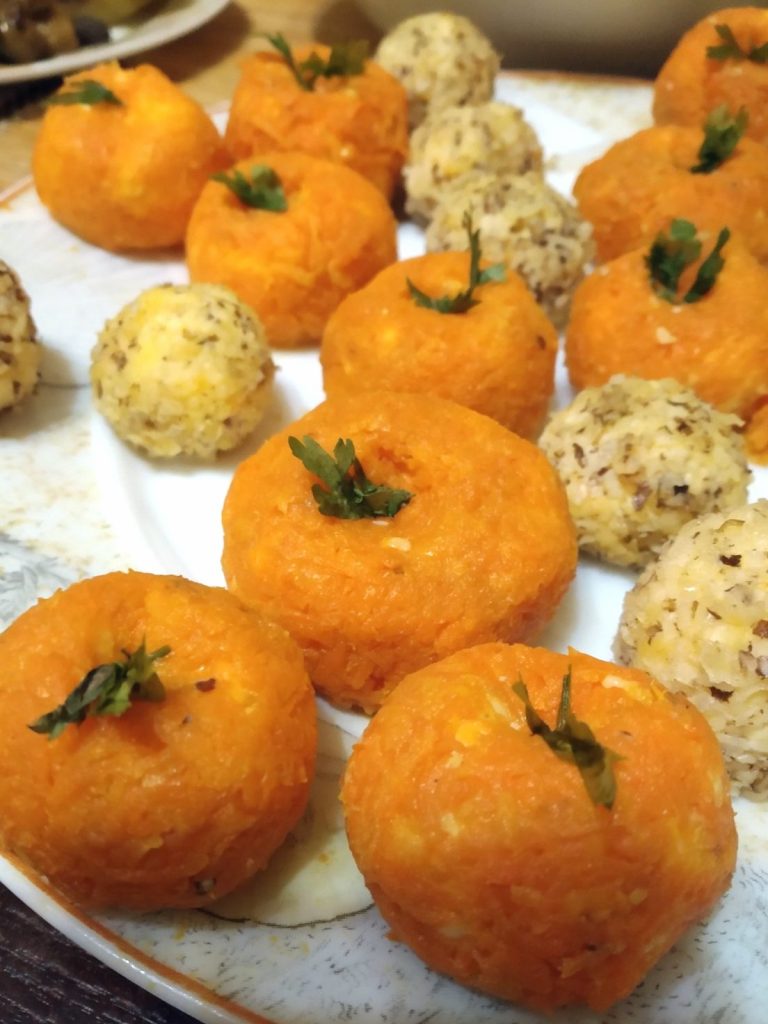 You'll need:
2 boiled eggs, finely grated
2 average carrots (or 12-14 walnuts)
150 g any semi-hard or hard cheese, finely grated
100 g processed cheese, finely grated
5 garlic cloves
1 tbsp mayonnaise
2-3 branches of parsley
Salt to taste
15-18 'mandarins'
Preparation:
1. Boil the carrots. Peel and finely grate them. If you use walnuts, peel and grate them as well.
2. Mix the cheeses and eggs. Add mashed garlic, mayonnaise and salt. Mix very thoroughly!
3. Make small mandarin-sized balls out of cheese mixture.
4. If you use walnuts, just roll the balls in the grated walnuts.
5. If you use carrots, thinly spread a teaspoonful of grated carrots over your palm, put the cheese ball on it and gently cover the ball with carrot by closing your palm.
6. Decorate carrot 'mandarins' with parsley leaves making small dents in their middle and putting a leaf in each.
7. Let the 'mandarins' cool down in the fridge for 30 min before serving.
Bon appetite!