Have you ever tried to make something with fresh corn or only cooked it in water? How about corn soup? This unusual Chinese soup is extremely cornish and aromatic, a bit spicy and quite nourishing. Having tried it once, you'll never forget its taste! If you like corn (who doesn't?), soy sauce and Chinese cuisine, you'll certainly relish it, so dare to try!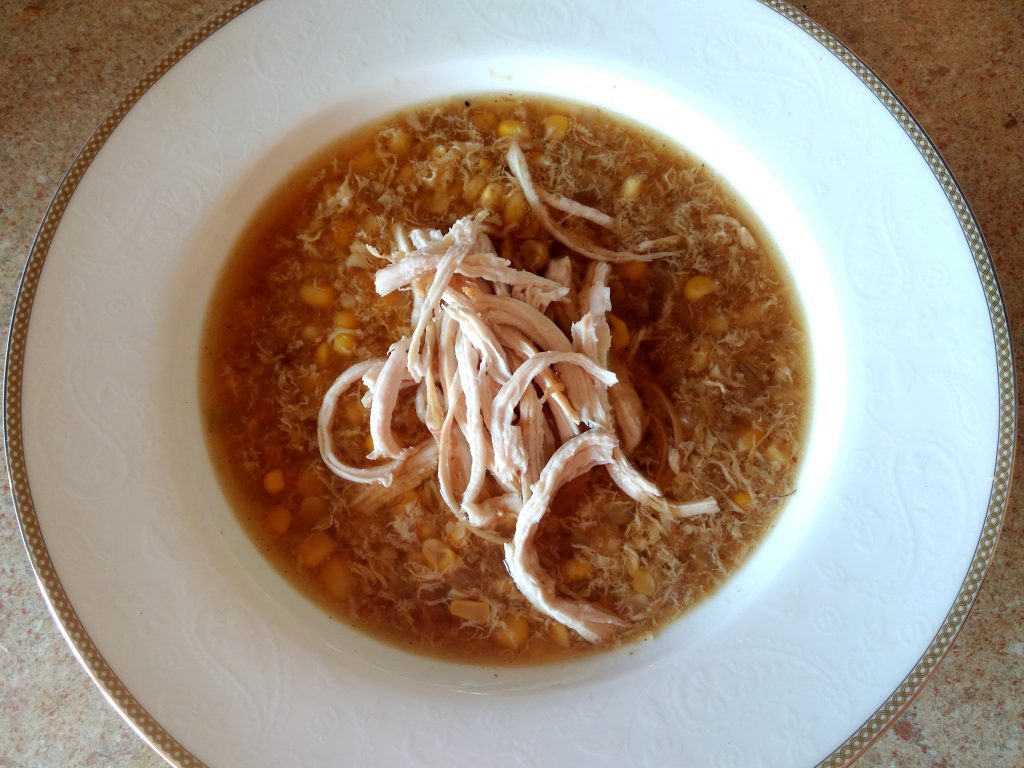 You'll need:
4 ears of sweet corn
2 small chicken breasts
30 ml oil
1 small onion, chopped
2 cloves of garlic, mashed
4 cm fresh ginger, finely grated
Salt to taste
1 tbsp oyster sauce (optional)
50 ml soy sauce
1 tsp starch
2 eggs
6-8 portions
Preparation:
1. Peel the ears of corn, wash them and cut in halves. Put them in a 3-litre pan and cover with water. Boil (approx. 15 min) and put aside. Keep the water!
2. In another 3-litre pan, heat the oil and brown the chicken breasts on all sides. Put them aside.
3. Put ginger, garlic and onion in the pan where you fried the chicken. Salt to taste and stir-fry until the onion softens.
4. Pour the water, in which you cooked the corn, and bring to a boil.
5. Put the chicken breasts and half of the soy sauce in the water and bring to a boil once more. Then, reduce the heat to minimum and boil until the meat is well-done.
6. Meanwhile, cut the kernels off the cob.
7. Take the cooked chicken breasts out of the soup and let them rest for 10 min. Then, split the meat into fibres.
8. Put the corn kernels and oyster sauce in the soup and bring to a boil.
9. Mix the rest of the soy sauce with starch and add to the boiling soup.
10. Beat the eggs slightly and trickle them in the boiling soup.
11. Remove the soup from the heat and salt if needed.
12. Serve hot, putting some meat in each bowl.
Bon appetite!