Desserts come back!
Today – delicious soft melt-in-your-mouth plum pie with crispy topping: the best idea for summer evening tea-party! Lots of plums make it succulent, cinnamon adds flavor, and a thin layer of tender yeast dough makes for a perfect basis for all this lavishness. By the way, it's very easy to make and doesn't require the skill of kneading dough. So, give it a try while plums remain #1 fruit at food markets!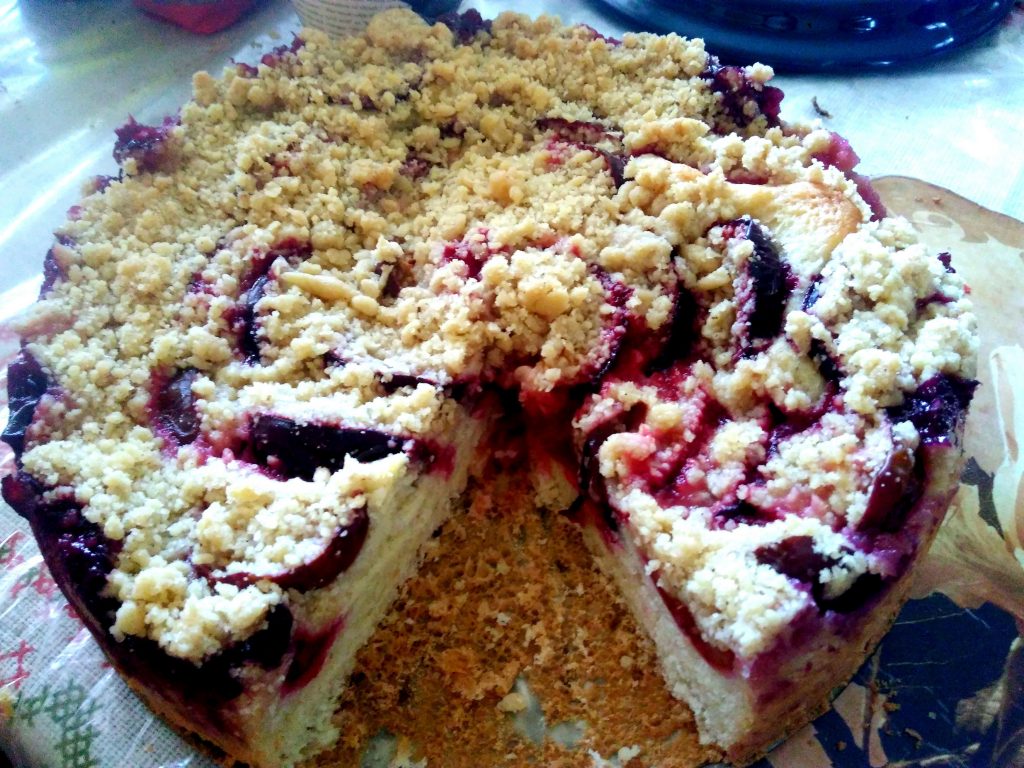 You'll need:
750-800 g plums, cut in halves, remove the stones
270 g flour
125 ml milk
50 g sugar
15 g fresh yeast
1 egg
50 g butter, melt
For crispy topping:
100 g flour
60 g sugar
70 g butter, well-chilled
1 tsp ground cinnamon
1 pie 18*30 cm or 26 cm springform cake tin
Preparation:
1. Stir milk, sugar and yeast together until yeast dissolves.
2. Add egg and mix it.
3. Add flour and butter and mix soft and quite sticky dough (with dough hook of your food mixer).
Mix for 5 min if you use food mixer or for 10-12 min if by hand (it's difficult, but still possible).
4. Cover the bowl with the dough with cling film or damp towel, and let the dough sit 1 hour 30 min in the kitchen. It should rise and double in size.
5. Put the dough in the baking tin and flatten it so that it covers the entire tin bottom.
6. Put the plums in rows on the top, insides up.
7. Prepare crispy topping: put all the ingredients for it in a food chopper and blend them until homogeneity. If you don't have a food chopper, just grate the butter very quickly and pound it with other ingredients more or less to homogeneity.
8. Spread the topping evenly over the plums.
9. Heat the oven to 180  C.
10. Bake the pie for 40-50 min (test with toothpick).
11. Let it rest for 10 min in the tin, then remove the tin and let it cool down. Before serving, dust with icing sugar.
Bon appetite!