This incredible cold cucumber soup is just made for hot summer days: fantastically refreshing, a little bit spicy, light but filling. It's extremely healthy and low-calorie, so no need to fret about some extra centimeters in waist or restrict yourself. Dare to try!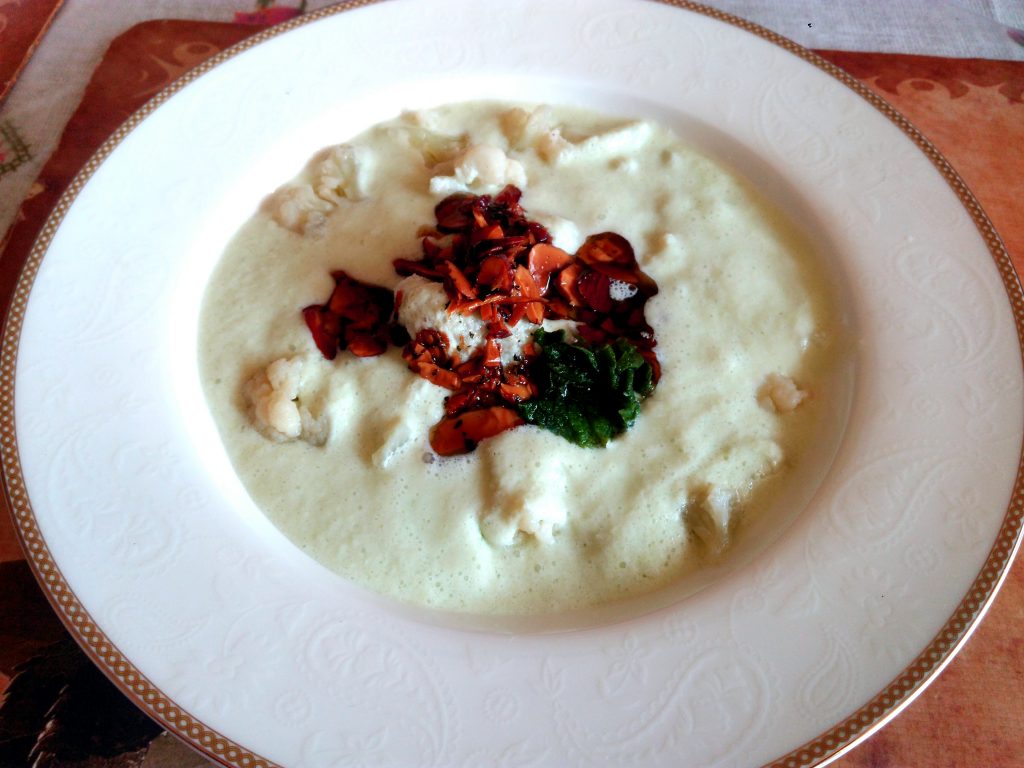 You'll need:
4 branches of mint
12 cm ginger root (90 g): 2/3 grate, the rest – slice
½ small cauliflower (350 g), cut into florets
3 big or 8 small cucumbers (650 g), peel, deseed and chop
1 garlic clove, mince
500 g Greek yoghurt
2 tbsp lemon juice
60 ml olive oil (can be replaced with sunflower oil)
70 g almond flakes
2 tsp dried mint
Salt and white ground pepper to taste
4 portions
Preparation:
1. Bring 800 ml of water to a boil.
2. Add mint branches, sliced ginger, 2 tsp of salt and cauliflower. Cook for 2-3 min, then strain off the water and remove ginger and mint.
3. Put cucumbers, the rest of ginger, yoghurt, lemon juice, garlic, salt to taste and white ground pepper into a blender. Blend until homogeneity.
4. Refrigerate for 1 hour.
5. Meanwhile, heat up the oil in a small saucepan and put it over a medium heat.
6. Add almond flakes and stir-fry them until brown.
7. Add dried mint, mix and remove from the heat.
8. For serving, put the cauliflower into serving bowls, pour the chilled soup and scatter it with parched almond flakes together with mint oil.
Bon appetite!
NB: If you're very sensitive to spicy food, reduce the grated ginger by half and enjoy this delicious summer soup in its mild variant!