This stuffed marrow will make for an excellent light dinner that will make you want to jump, run, dance, and not lazily go to bed. Creamy sauce adds to its texture and taste and makes the dish really exquisite. If you'd like to eat something savory yet healthy or just to surprise your relatives with
something delicious made from incredibly simple ingredients, try this and you'll be amazed!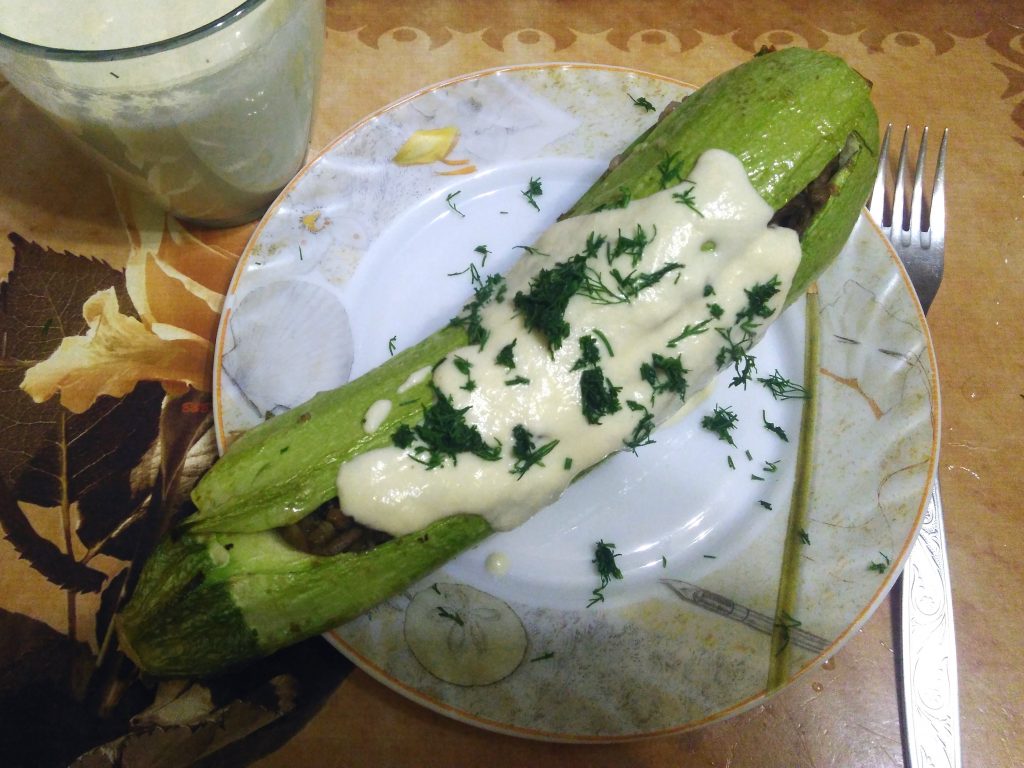 You'll need for 2 portions:
2 average-sized marrows
50 g butter
100 g cooked buckwheat
1 small onion, finely chopped
200 g button mushrooms, sliced
Salt to taste
1 teaspoon dried marjoram
Ground black pepper to taste
½ bunch of dill, finely chopped
Sunflower oil
For the sauce:
30 g butter
200 ml sour cream
1 onion, chopped
1.5 teaspoon flour
Salt to taste
Preparation:
1. Pre-heat oven to 200 ᵒC.
2. Melt 20 g of butter in a pan. Add onion, salt to taste and stir-fry until the onion softens.
3. Add mushrooms, marjoram and the rest of butter, and stir-fry until mushroom juice evaporates.
4. Add buckwheat, salt and black pepper to taste, thoroughly mix and remove from the heat.
5. Wash the marrows, cut off the tops lengthways and scoop out the middle.
6. Stuff the marrows with buckwheat and mushrooms and cover with the cut-off tops.
7. Put the marrows into some heat-resistant pan or pot and oil them.
8. Roast the marrows 25-35 min until softened. Meanwhile, prepare the sauce.
9. Melt the butter in a pan. Add onion, salt and stir-fry until softened.
10. Mix sour cream with flour and add to onion.
11. Bring to a boil and cook 3-4 min constantly stirring until the sour cream acquires a creamy hue.
12. Puree the sauce and pour it into a sauce boat.
13. Serve stuffed marrows with cream sauce, sprinkling each portion with dill.
Bon appetite!